Other Products: Coxreels 1185 High Pressure Series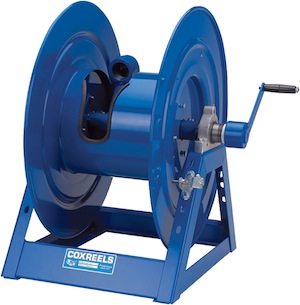 Coxreels, leading U.S. manufacturer of industrial-grade hose, cord and cable reels, is pleased to introduces its new large capacity 1185 Series high pressure model hose reels. The existing 1185 Series reels, featuring 1 ½" ID models, are now available with an upgraded swivel to strengthen the reel capacity to up to 3,000 PSI usage.
The 1185 models followed by the suffix "-BUXX" have an external fluid path with an electroless nickel-plated steel 90° full-flow NPT swivel inlet and chemical resistant AFLAS seals for high pressure applications. These reels are available with a solid steel direct hand crank or reliable chain and sprocket retraction.
The high pressure 1185 series has all the features and benefits of the standard 1185 series, including a sturdy one-piece all welded "A" frame base for maximum stability, a low profile outlet riser, and an open drum slot design to provide a non crimping, flat, smooth hose wrap.
Coxreels has been manufacturing high quality professional grade hose, cord, and cable reels since 1923. Offering a full product line serving the industry in every channel and application, Coxreels takes great pride in designing, building, and supporting the world's finest reels made right here in the U.S.A.
For further information on the Coxreels product line, contact Customer Service at (800) 269-7335 or visit www.coxreels.com.