Other Products: Plews & Edelmann Jot Solutions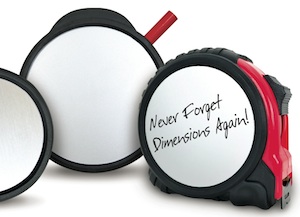 Plews & Edelmann's Jot Solutions is a line of patented, innovative tool accessories that provide a reusable writing surface for everyday use. When written on with a pencil, users can erase the mark with their thumb.
The writing surface works in wet or dry conditions, as it does not utilize paper. Some models are equipped with a magnetic or adhesive backing for easy use on any surface.
"Jot Solutions is perfect when you just need a small space to write on the job or at the office," said Dwayne Dunseath, senior product manager for Jot Solutions. "It saves time and paper, as it can be used over and over again."
Developed for contractors, DIYers, automotive shops, household use and other retail environments, Jot Solutions includes Jot Spot, Jot Pad and Jot Tape. Jot Spot is designed to affix to an existing tape measure. The Jot Pad is larger and comes equipped with a pencil and holder for quick use. Jot Tape was developed with the writing pad permanently affixed to a tape measure.