Other Products: Reelcraft Side Mount Series RT Hose Reels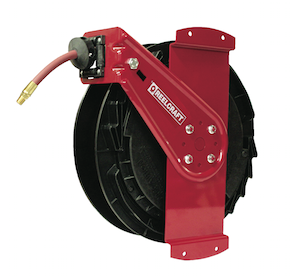 Reelcraft has modified the popular Series RT, enabling the reel to be mounted on its side, making it ideal for mounting in cabinets, on vehicles and other tight spaces. An equally heavy-duty side-mount plate replaces the standard.
The reel accommodates up to 50 feet of 3/8" I.D. hose and the stainless torsion spring and latch are mounted on the arm for ease of access and to eliminate the possibility of latch-out at full extension. The guide arm is easily moved to one of four positions, using standard tools.
The new side-mount model expands Reelcraft's economical Series RT line and is ideal for air and water applications; with the strength and durability you need in a quality, lighter weight, cost-efficient reel.
For more information, please call 1-800-444-3134 or visit Reelcraft at www.reelcraft.com.