Other Products: Coxreels Universal Bracket for 1600 series reels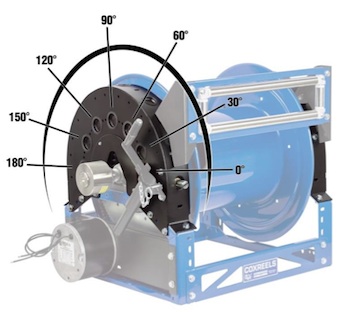 Coxreels 1600 Series features the most versatile symmetric reel design in the industry. This feature-rich reel has a wide array of components and configurations, including the Universal Bracket Kit, providing a robust reeling platform for any conceivable application and making it the most versatile design available on the market today.
The Universal Bracket, made from 12 gauge, heavy- duty, powder-coated steel, functions as a chain/gear guard and allows for four versatile payout degrees (0°, 30°, 60°, and 90°) for mounting rewind crank, three or four way roller guide, and a three-way pin. The Universal Bracket also includes a removable center guard cap for easy bearing access.
The Universal Bracket was designed to meet the most demanding requirements in the industry and fit any allocated space in virtually all equipment areas and applications.
For further information on the Coxreels product line, contact Customer Service at (800) 269‐7335 or visit www.coxreels.com.