Other Products: Dr. Shrink Volatile Corrosion Inhibiting (VCI) Shrink Wrap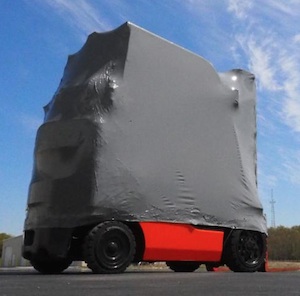 Keep metal industrial equipment and machinery protected from rust and corrosion by using Dr. Shrink's specialty Volatile Corrosion Inhibiting (VCI) shrink wrap.
The international shrink wrap supplier is now stocking VCI in a new size and color: 32' x 100' 8 mil in gray.
Similar to Dr. Shrink's other premium shrink wrap, it's constructed from 100% virgin resin and contains maximum UV inhibitors.
VCI shrink wrap contains additives that will prevent corrosion on both ferrous and non-ferrous metals for periods up to two years if properly installed. This specialty film is versatile defense against corrosion and offers excellent protection during shipping and storage.
Dr. Shrink's new 32' x 100' 8 mil gray VCI shrink wrap has a price of $562. The company also offers VCI film in 20' x 100' with 6 or 7 mil thickness. Standard premium shrink wrap options come 12' to 60' in width and up to 12 mil thick.
A full-service, full-circle supplier of premium shrink wrap and installation accessories, Dr. Shrink has everything needed to wrap an asset. The company is noted for industry-first products, prompt service and experienced application advice.
Contact Dr. Shrink, 315 Washington St., Manistee, MI 49660. 800-968-5147; Fax: 231-723-9586. drshrink@dr-shrink.com; www.dr-shrink.com.