Other Products: Coxreels Heavy Duty Band Brake Accessory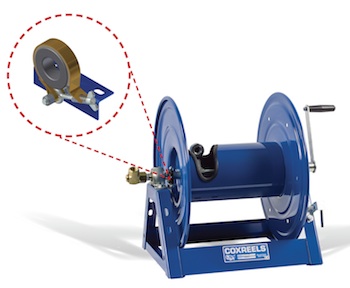 Coxreels is pleased to introduce the Heavy-Duty Band Brake Accessory for the hand-crank and motorized hose reel lines.
The Heavy-Duty Band Brake is an upgraded brake option available on most A- Frame and all Hybrid-Frame Reels, including the 1125, 1175, 1185, and the 1600 Series reels.
The Heavy-Duty Band Brake increases available braking friction and extends the brake life, while simultaneously improving adjustability and ease of use. Brakes of all kinds are utilized to minimize free-spin or unwanted unloading of hose due to drum momentum when the operator stops unwinding the hose.
The Coxreels Heavy-Duty Band Brake features a composite friction brake material and a solid- steel drum.
Coxreels has remained steadfast and focused on manufacturing high quality, industrial grade hose, cord, and cable reels with leading industry innovation since 1923. Offering a full product line serving the industry in every channel and application, Coxreels takes great pride
in designing, building, and supporting each and every product made exclusively in the U.S.A.
For further informatio, contact Customer Service at (800) 269‐7335 or visit www.coxreels.com.