Other Products: DMT Sharpening Stone DuoBase with MagnaBase Adapter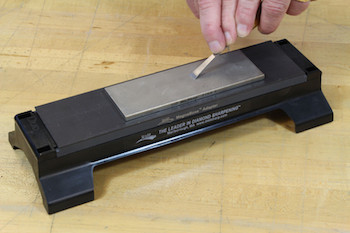 DMT's new DuoBase with MagnaBase Adapter expands the manufacturer's bench stone accessory line to offer greater flexibility and convenience when sharpening knives and tools.
Following its popular MagnaBase concept — introduced last year — consumer demand arose for a model that can be used with all DMT bench stones, especially Dia-Sharp products. And DMT has answered that call.
"DMT's great new MagnaBase Adapter showcases their practical and highly functional products and makes their diamond bench stones even more versatile and easy to use," says Roy Huntington, American Handgunner publisher. "Now any of their stones can be quickly swapped out. It's a breeze to change from one grit to another as I sharpen knives, shape metal or flatten parts I'm building for guns. I use mine almost daily."
The DuoBase with MagnaBase Adapter:
Allows for bench sharpening with all DMT Dia-Sharp stones
Holds stones securely and provides for quick and easy grit changes
Features all of the proven and practical qualities of the DuoBase line including durable, highly-engineered resin construction and safe knuckle clearance and stability
Delivers Made in America quality and performance, like all DMT products
The new DuoBase with MagnaBase Adapter is available now in the DMT Online Store and from retailers that carry DMT products. Check out a brief demo video here.
"This is a really keen idea for a sharpening stone base. I love it," says Gayle Bradley, owner of Bradley's Blades and a custom knifemaker for more than 25 years. "I like that it's designed to be so versatile that I can use it with all of my DMT stones and easily switch them out for sharpening. I also like that it holds the stones magnetically instead of by latches or clips, and that the base elevates the stone off the work surface and is so stable, even on granite countertops."
DMT's Dia-Sharp Bench Stones line ranks highest in the continuous surface marketplace when it comes to flatness and diamond coverage and uniformity. It can accommodate all sharpening needs for discerning woodworkers, builders, remodelers and knife enthusiasts and is also ideal for small or pointed tools. The Dia-Sharp line includes single-and double-sided models that range in grit from Extra-Extra Coarse to Extra-Extra Fine and in size from
6 inches by 2 inches to 10 inches by 4 inches.
What's more, the new DuoBase with MagnaBase Adapter not only allows for sharpening with the entire Dia-Sharp line, but also with all DMT DuoSharp stones and the Diamond Wave Sharpener.