Other Products: Kreg Jig K5 Master System and System Organizer
Kreg Tool Company is proud to announce the launch of two great all-new products: the Kreg Jig K5 Master System and the Kreg System Organizer.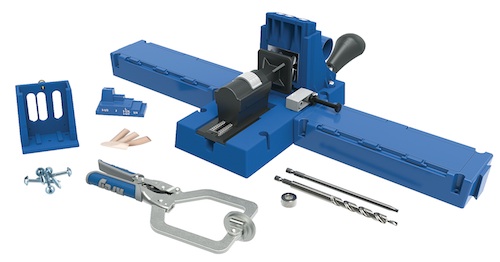 The Kreg Jig K5 Master System (Item# K5MS) combines the most advanced Kreg Jig yet with premium accessories that make Kreg Joinery easier than ever. The Master System includes the fully-featured Kreg Jig K5, plus a 3" Automaxx auto-adjusting Face Clamp, a Portable Base, and three downloadable project plans — each with two design variations.
The Kreg Jig K5 Master System will be available in September 2015 for $169.99 (U.S.).
The Kreg System Organizer (Item# KTC55) is the easy way to store and organize an entire Kreg Joinery system in one compact, convenient case. This new case can hold a Kreg Jig, plus Kreg accessories like clamps, bits, Drill Guide Blocks, Kreg Screws, and more.
The System Organizer does this with custom inserts that organize and protect their contents, making it easier than ever to keep everything needed for Kreg JoineryTM in one convenient place. In addition, a portion of the Organizer's tray can be removed for storage of other items.
The System Organizer will be available in September 2015 for $39.99 (U.S.).
Kreg Tool Company manufactures a wide variety of tools, accessories, and equipment for woodworkers and do-it-yourselfers. In addition to their well-known Kreg Jig pocket-hole jigs, Kreg also manufactures products for cutting and measuring, clamping, joining, routing, organization, and more. Kreg is headquartered in Huxley, Iowa. For more information about Kreg Tool Company, visit www.kregtool.com or call 800-447-8638.