Other Products: Coxreels Three-Way Brake for 1600 Series Reels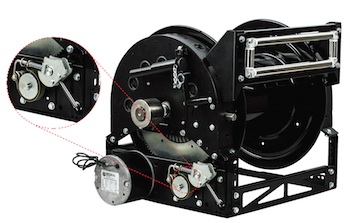 Coxreels is confident that its 1600 Series features the most versatile symmetric reel design in the industry. This feature-rich reel has a wide array of components, configurations, and accessories, including the three-way brake.
Drag brakes are a standard feature on hose reels to prevent free-spooling when momentum continues to spin the reel after the desired length of hose is extracted. The three-way brake is a lever-actuated brake, offering the operator three positions: locked (full brake), drag (minimal brake), and free-spin (no brake), for use during transport, unwinding, and rewinding.
In mobile applications where unspooling during transport is unacceptable, or pulsing pressure applications where undesired rewinding or unwinding may occur, rapid and simple reel locking is necessary. The three-way brake offers a dependable and fast-locking method with the simple flip of a lever.
For applications where extra brake force is required, the three way brake multiplies the braking torque through chain and sprocket gearing to deliver incredible locking power.
Robustly constructed with solid steel brake drums, true composite brake friction pads, stainless steel slides, and corrosion-resistant plated components, the three-way brake accessory offers users an extended brake life and hassle-free brake maintenance.
For further information on the Coxreels product line, contact Customer Service at (800) 269‐7335 or visit www.coxreels.com.