TigerTouch adds Surface Pro 3 Touchscreen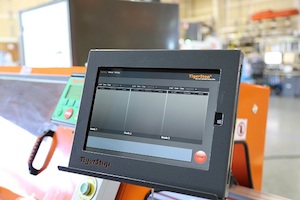 TigerStop is now offering TigerTouch, a powerful, yet easy-to-use new software solution for ferrous and non-ferrous metal processing. Sawing, punching, drilling, and other equipment requiring length measurement can now couple a TigerStop positioning system with TigerTouch, which allows the user to import, view and edit multiple cut lists.
It provides a sophisticated yet user friendly visual representation of the actual material process, allowing for greater control and customization on the manufacturing floor.
TigerTouch runs on the reliable Surface Pro 3 for fluid compatibility with machine shop servers.
TigerTouch supports both push-feed and set-point cut lists from manual to full-auto processing. The program allows the user to download cut lists straight from the office. TigerTouch can then optimize all the material in the cut list, on the fly, based on the operator's specific needs.
"We designed TigerTouch to dramatically improve operator ease-of-use and allow the user to have everything from manual to full auto processing at their fingertips," says Spencer Dick, founder and CEO at TigerStop.
Highly sophisticated, yet extremely easy to use, TigerTouch combines, all in one package, the following:
Simple, user-friendly interface – perfect for all operators regardless of skill level
Increases operator productivity - reduces mistakes by showing optimization errors before cutting
World-class optimizer with Dynamic Optimization
Allows combination of cut lists to achieve maximum yields
Visual cut list progress in real time
Download cut list directly to tablet from office PC or USB drive
Perform on-the-fly cut list editing/changes
View statistical feedback regarding yield and other key metrics
Supports full label printing for easy identification of parts once they're cut
Customizable software pre-loaded on a Surface Pro 3 touch-screen tablet
Customizable touchscreen display
Manual to fully automatic processing
Use for both stop and pushfeed operations
TigerTouch can be seen on all of TigerStop's equipment at FABTECH.
Booth S1979– McCormick Place, Chicago, IL – Nov 9-12, 2015
To view videos and testimonials or to request a quote, please visit www.tigerstop.com or phone 360-254-0661.