Nailers & Staplers: SENCO Fusion Finish Nailers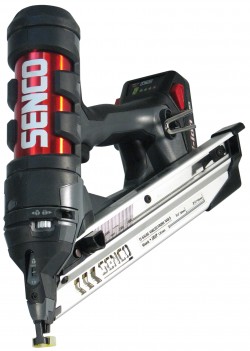 Say good-bye to costly fuel cells and battery ramp-up times. SENCO's pneumatic driven, Li-ion powered Fusion technology is a new breakthrough in power fastening.
The new Fusion15- and 18-gauge finish nailers combine the best of air and cordless technologies to maximize job site performance and portability. At the same time, they eliminate the drawbacks associated with traditional gas and battery powered nailers, including fuel cell replacement costs, tool weight and "ramp-up" times.
"Fusion's unique design is ideal for trim crews, remodelers, punch-out teams, and serious DIYers who don't want to deal with the hassle of a hose and compressor but still want the benefits of a pneumatic tool," says Dave Moore, director of product marketing.
Fusion is powered by a reliable 18V Lithium Ion Phosphate (LiFePo4) battery that can reach an 80% charge in just 15 minutes. The tool's patented Reflex Shot design provides an instant trigger response and delivers up to 500 drives between charges.
"A gear box and lifter force the piston and driver blade against self-contained air within the cylinder, compressing it so that when the trigger is pulled, it drives nails powerfully and consistently even into hardwoods," adds Joe Knueven, Product Manager. "The air pressure is pre-set at the factory, permanently sealed and never needs recharging."
Among Fusion's many features, users can choose between sequential or contact actuation depending on the job. The tool-free, adjustable depth-of-drive feature combined with the nose mounted LED work surface light ensures accurate fastener placement and counter sinks. The EZ-Clear removable magazine makes fastener removal a breeze.
Fusion features a robust ¼" aluminum drive cylinder and durable over molding. At 6 pounds, the ergonomically balanced nailers are nearly 2.5 pounds lighter than competitive models, (thanks in part to the Lithium Ion Phosphate battery), and can be comfortably operated with one hand.
SENCO Fusion FN55AX: 18-gauge Brad Nailer
Ideal for molding and decorative trim, furniture trim, window beading, blind pinning of upholstered and trim panels, rattan, scribe molding, cabinets, drawers and picture frame assembly.
5/8" – 2-1/8" galvanized slight head and medium head straight strip brads
2-year warranty
SENCO Fusion FN65DA: 15-gauge Finish Nailer
Ideal for finish and trim, baseboard, cabinets, chair rail, decorative trim, door and window casing, furniture trim, and paneling.
1-1/4" – 2-1/2" bright basic, galvanized and stainless angled strip finish nails
2-year warranty
Both tools will be available from SENCO dealers nationwide beginning spring 2010. For more information, visit www.senco.com orwww.sencofusiontools.com .