Nailers & Staplers: Porter-Cable maintenance-free 23-gauge 1-3/8" pin nailer kit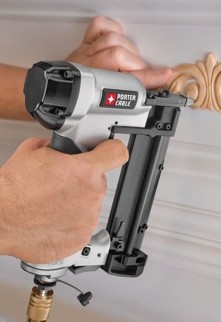 PORTER-CABLE announces the first ever maintenance-free pin nailer with its new 23GA, 1-3/8" Pin Nailer Kit (model PIN138), offering long life, consistent performance and innovative on-board features.
The PIN138 meets the needs of professionals and serious woodworkers who are looking to fasten materials while keeping nail visibility to a minimum and still delivering superior holding power. The PORTER-CABLE pin nailer fastens materials that would normally split using larger tools, providing greater flexibility and saving time on projects.
Designed with a "Maintenance-Free Long Life" motor, the new 23GA, 1-3/8" Pin Nailer Kit requires no oil to be added to the tool. The motor utilizes a dual-stack ring system where the outer ring is designed to minimize internal friction, resulting in longer tool life.
"With the 'Maintenance-Free Long Life' motor of the PIN138, there is no guessing how much oil needs to be added to the pin nailer," said Jorge Silveira, product manager for PORTER-CABLE. "Unlike all other pin nailers on the market, the PIN138 reduces the possibility of work surface oil contamination and promotes hassle-free tool operation."
The consistent power and penetration of the PIN138 is delivered through an internal piston catch that holds the piston-driver assembly at the highest position in the cylinder, resulting in maximum power on each shot and ensuring accurate nail setting. "The PIN138 is designed to counter-sink a 1-3/8" nail into hard materials like oak," said Silveira.
The PIN138 also provides the option of using headless and slight headed 23GA pin nails from 1/2" to 1-3/8" in length.
"The ability to utilize both nails gives the user a choice of keeping nail hole size to a minimum by using headless pin nails or maximize holding power by using the slight head pin nails," said Silveira. "With the increased holding power you get from slight headed pin nails, there are now even more applications to use your pin nailer." Either type of pin nail will save you time by reducing the need for clamping on a particular project or eliminating the need to fill holes due to their extremely small size.
Featuring a dry-fire lock-out, the PIN138 will not allow users to fire the tool when there are no nails remaining in the tool. The dry-fire lock-out feature eliminates witness marks, empty nail holes in the material. In addition, a low nail indicator is provided on the outside of the side-loading magazine to alert when nails are running low. For added convenience, the PIN138 holds 130 pin nails and automatically adjusts to different fastener lengths to provide easier loading and has fewer problems with pin nails that are out of spec.
The PIN138 includes additional features that further protect your work surface from being damaged. The tool comes equipped with a rear exhaust, which directs any potential moisture and contaminates away from the work surface. The PIN138 is designed with a narrow nose for improved visibility and features a removable non-marring tip that eliminates wood indentations. An extra non-marring tip is provided and stored on the tool for when the need arises. Plus, a rubberized PORTER-CABLE logo on the side of the tool provides soft contact if the tool were laid on the work surface.
Weighing only 2.2 pounds, the PIN138 still delivers durability with its aluminum body and magazine construction. The reversible belt clip allows the user to keep the tool by their side for when it is needed. Ideal for cabinet makers, cabinet installers, furniture builders and mantle builders, the PIN138 is appropriate for light fastening and clamping applications including, but not limited to, small trim and small decorative moldings, cabinet crown molding, raised panel doors, rope and bead molding, mantle building and wood joining.
The PORTER-CABLE 23GA, 1-3/8" Pin Nailer Kit includes the pin nailer, 2000 headless pin nails, a ¼" plug with cap, a wrench for internal access and a carrying case. It is backed by a three-year limited warranty and includes one year of free service and a ninety-day money back guarantee. The PIN138 will be available in October 2010 and will carry a suggested retail price of $149.