Nailers & Staplers: 400-PSI timber framer from MAX
---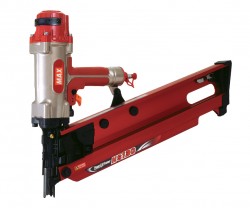 MAX USA's 400-psi Model HS130 offers an alternative to conventional fastening systems.
The HS130 is a compact, light-weight system with all the advantages and more of 100-psi tools. At 9.5 pounds, it is more than 30 percent lighter than comparable 100-psi tools. It is also nearly 3 inches shorter, making it much easier to maneuver.
The tool holds up to 64 nails from 3 ½ to 5 1/8 inch x .162 21-degree plastic collated nails and places them in a single shot. Applications include timber frame construction, heavy-duty crating and pole barn construction.
---