ESAB 7018-1 Prime Low-Hydrogen Stick Electrodes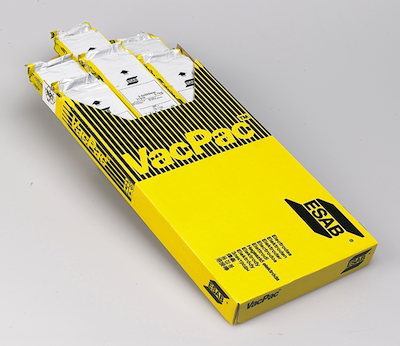 ESAB Welding & Cutting Products has launched its ESAB 7018-1 Prime low-hydrogen Stick electrodes (AWS E7018-1 H4R) in the U.S. market. ESAB 7018-1 Prime comes in a 24-lb. master carton that contains six VacPac vacuum-sealed packages. They are available in all diameters from 3/32 to 5/32 in. and 14-in. lengths.
ESAB 7018-1 Prime provides excellent operator appeal, offering good slag release, weld puddle control and a higher deposition rate. Operators can weld faster without sacrificing out-of-position welding performance. A graphite coating on the end of the electrode improves arc initiation. Applications include power generation, structural steel, offshore, pressure vessel fabrication, petrochemical industry, food processing other industries where the prevention of cold cracking or porosity is crucial.
Packaged for the Way Welders Work
"The VacPac contains 4 lbs. of electrodes because the average welder in an industrial operation consumes 3 to 5 lbs. of electrodes per shift," says Halinson Campos, Product Business Manager - Filler Metals, ESAB. "Compared to the industry's standard 50-lb. cans, VacPac reduces or eliminates the need to scrap unused electrodes at the end of the day or re-bake them in a rod oven. Four-pound packages are also much easier for operators to carry and less expensive to ship."
VacPac features a laminated, multi-layer aluminum foil that is hermetically-sealed around a strong plastic inner box. Protected by a cardboard outer box, they have unlimited shelf life and do not require special warehouse conditions, provided they are handled with care and the foil is not damaged. Upon opening, fresh and dry electrodes are guaranteed when the vacuum is confirmed. Distributors have the flexibility to sell individual 4-lb. packages.
Special Designations
The -1 designation indicates Charpy V-Notch properties measured at lower temperatures. ESAB 7018-1 Prime provides as-welded impact values of 78 ft.-lbs. at -50 oF and 168 ft.-lb. at -20 oF. Electrodes with a -1 designation may also be used when procedures call for a standard E7018 electrode, but not vice versa.
ESAB 7018-1 Prime also carries the H4R designation, indicating less than 4 ml of diffusible hydrogen per 100 g of deposited weld. These electrodes can be used straight out of the VacPac package without the need to bake or store them temporarily in holding ovens or quivers to meet low-hydrogen requirements. Designed for moisture resistances, H4R electrodes also have less than 0.4 percent moisture absorption after 12 hours of exposure at 80 oF and 80% percent relative humidity.
Two Premium Lines
While ESAB 7018-1 Prime is new to the U.S., it is an established and respected global product, sold in Canada, the EU, Middle East and Asia under the name OK 55.00. ESAB manufactures these low-hydrogen electrodes at its Perstrop, Sweden, facility, where the quality system is certified by the ASME Boiler and Pressure Vessel Code and other international bodies.
The introduction of ESAB 7018-1 Prime compliments ESAB's existing Atom Arc® and Atom Arc Acclaim low-hydrogen electrodes. Made from domestic steel cores at ESAB's Hanover Penn., facility, Atom Arc and Atom Arc Acclaim meet "Buy America" requirements.
ESAB Welding & Cutting Products is a recognized leader in the welding and cutting industry. From time-honored processes in welding and cutting to revolutionary technologies in mechanized cutting and automation, ESAB's filler metals, equipment, and accessories bring solutions to customers around the globe.
For more information, visit www.esab.com.