ACD USA M2Smart Manual Terminal
The M2Smart is a new, modularly structured manual terminal with attachable modules that can be connected using an insert/slide mechanism.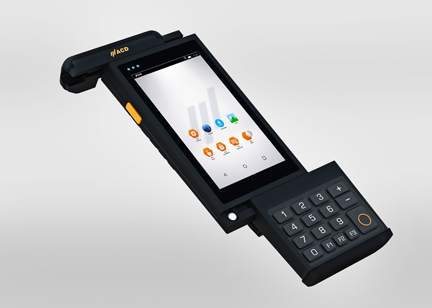 That means a specific solution module is possible for every customer problem, erasing all limits on creativity and flexibility, improving your operations. The M2SMart, developed by ACD USA Inc., will debut in the United States in January 2020.
ACD USA is the North American operating division of ACD GRUPPE, a European manufacturer of mobile computing devices and solutions for logistics and industrial efficiency.
The new patented solution from ACD together with the modularity and standard interfaces make numerous attachable modules possible, including RFID readers, printers, distance sensors, temperature modules, chemical 1D/2D long-range scanners and different keyboard variants. The attachable modules mentioned here as well as other modules can also be adapted and implemented for specific customer requirements. Currently keyboard variant M2Key16 ACD as well as temperature module M2Temperature ACD for measuring core and surface temperatures are already optionally available.
The individual modules can be exchanged at any time without a tool using the insert/slide mechanisms, thus allowing for highly efficient, economical and flexible work, on the sales floor, in incoming goods, in the warehouse, and also in production areas. This new modularity, currently unique on the market, makes it possible to configure customer specific modules for all daily business requirements.
End customers of ACD can already look forward today to many additional creative solution modules that will make daily work even more efficient and contribute towards successfully covering all process steps with just one basic device – even in different areas.