Mi-T-M Hot Water Mini Trailer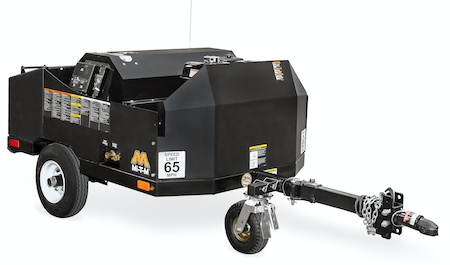 Mi-T-M Corporation recently announced the release of the new hot water mini trailer. This compact trailer and 4000 PSI pressure washer package is perfect for remote cleaning jobs and is easy to store when the job is done.
The industrial belt-drive pressure washer utilizes a 12 Volt Beckett burner to heat water up to 210 degrees Fahrenheit, ideal for heavy-duty cleaning.
The package comes complete with an insulated dual lance and trigger gun, including four quick connect nozzles, and a 50-foot industrial steel wire-braided hose. A 10-gallon diesel fuel tank allows for up to 8 hours of cleaning.
Easy to tow from one job to the next, this mini trailer features a durable powder coated steel frame and rear locking storage area. It is certified by the National Association of Trailer Manufacturers (NATM), Dot approved and can be towed up to 65 mph.
An optional adjustable trailer hitch swings out of the way for ease of storage.
For more information on the complete line of products and customer support from Mi-T-M Corporation, visit www.mitm.com or call (800) 553-9053.