Enerpac High-Capacity SL400 Hydraulic Gantry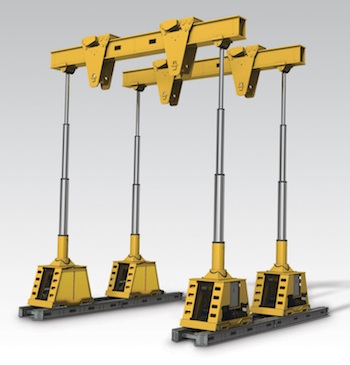 Enerpac introduces the SL400 hydraulic gantry, the company's highest capacity bare cylinder gantry. Equipped with three stage lifting cylinders, the SL400 lifts up to 30 feet at the top of the third stage and can handle up to 450 tons at the top of the second stage
Designed to meet stringent safety requirements, the SL400 complies with the safety standards set by ASME B30.1-2015. To ensure quality performance, each gantry is tested to 120 percent of capacity at full extension and witness tested by a qualified third party organization. The SL400 is also CE compliant.
"Providing a more advanced solution than standard lifting systems, the SL400 hydraulic gantry offers unique features such as a wireless control system and integrated self-propelled drive system," said Peter Crisci, Enerpac. "These features, combined with safe, reliable performance, allow our customers to satisfy their complicated lifting applications."
Featuring a unique Intellilift wireless control system, the SL400 provides optimum performance and allows for unobstructed views of the load. The control system allows users to operate the lift locally at each leg or use the Intellilift remote control. The wireless system ensures automatic synchronization of lifting with accuracy of 1 inch and automatic synchronization of travel with accuracy of 0.60 inch.
For enhanced durability, the SL400 offers a sturdy, proven base frame that can withstand a variety of environmental conditions. It can also be equipped with a powered side shift for easy operation.
For more information on the SL400 hydraulic gantry, watch the video or visit www.enerpac.com.