Enerpac Split Flow Hydraulic Pumps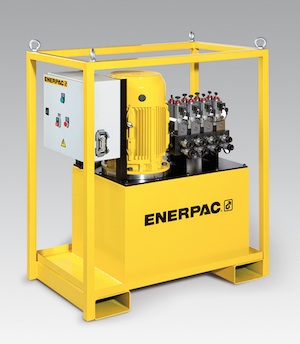 In comparison to using separately operated pumps, Enerpac split flow pumps provide a safe, economical solution for applications where synchronization of up to 4 percent is acceptable.
Featuring 2, 4 or 6 split-flow outlets, the SFP-Series offers individual or simultaneous operation of valves with advance, hold and retract functionality. The values can be controlled manually with a lever, or with remote pendant on models with solenoid valves.
The remote pendant includes selector switches for each individual outlet, allowing for single or multiple cylinder operation.
"With multiple outlets providing equal oil flow, the SFP-Series Split Flow Pumps are optimal for lifting and pushing applications where even, safe loading is required," said Peter Crisci, Global Business Development Leader for Enerpac. "Providing superior performance, our split flow pumps are ideal for lifting a bridge deck, repairing foundation, stage lifting of heavy transports or pushing tunnel segments."
Each outlet provides flow ranging from 33-305 in3 per minute at 10,000 psi. The reservoir capacity is available in 10 or 40 gallons. The SFP-Series features a rigid protection frame with forklift pockets and lifting eyes.
To ensure optimal performance of split flow pumps, Enerpac gauges can be used to visualize pressure or load in the hydraulic system. Additionally, Enerpac offers a complete line of high-quality hydraulic hoses to ensure the integrity of users' hydraulic system.