Parker 56DH Diagnostic Hose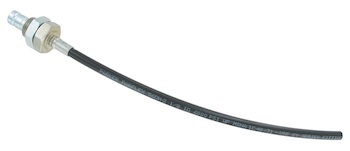 Parker Hannifin, the global leader in motion and control technologies, manufactures diagnostic hoses for use on heavy construction, agriculture and other mobile equipment where hydraulic systems are monitored.
The 56DH Diagnostic hose, from the Parflex division of Parker Hannifin, is available in microbore sizes (4mm, 2mm) with a constant 6000 psi. The smaller bore allows the hose to fit into tighter routings the high tensile aramid reinforcement limits volumetric expansion, allowing excellent response time while minimizing signal loss.
The 56DH hose is available with a Parker Pressure Diagnostic (PD) port integrated into the hose fitting to speed up assembly time by eliminating the stack of hose fitting, bulkhead adapter and PD nipple.
In addition, 56DH hose can be produced in much longer lengths than comparable rubber hose, allowing for fewer connection points to provide the faster response needed for critical mobile applications.