Extreme Abrasives Carbide Abrasive Tools
Extreme Abrasives is pleased to announce our appointment as the Master Distributor for North America for Carbide Abrasive Tools who are located in Denmark. They manufacture a wide variety of sanding tools for construction,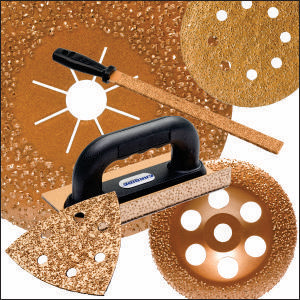 and DYI industry made with tungsten carbide grit.
These products outlast sandpaper 50 times or more.
Carbide abrasive tools consist of granulated sintered tungsten (small sharp grains of hard metal), which are evenly brazed, using proprietary process, onto metal plates. This combination makes these tools extremely long lasting and heat resistant.
The large 15", 16" and 17" discs are made for removing all kinds of material from concrete. They remove epoxy paint, carpet backings, grout and almost any kind of product you may have on a concrete floor. They are double sided, which means they can be used on either side. They are made to use on orbital floor sander in place of sandpaper and fit on plastic backing pads.
These discs are capable of removing 25,000 square feet of epoxy paint on a concrete floor using only one side of the disc. Carbide also manufactures smaller discs for use on orbital sanders in 5" x 8 holes, 6" x 6 holes and in both sizes with no holes. These dimensions are made with a male Velcro backing so they are easy to attach.
When any of the tungsten carbide discs load up, just remove the build-up with a hand held wire scratch brush.
For more info, visit www.extremeabrasives.com/product-category/carbide-abrasive-tools/carbide-dk/
Download their catalogue at www.extremeabrasives.com/wp-content/uploads/2016/12/carbide_dk.pdf