Forney Industries Double-Sided Flap Discs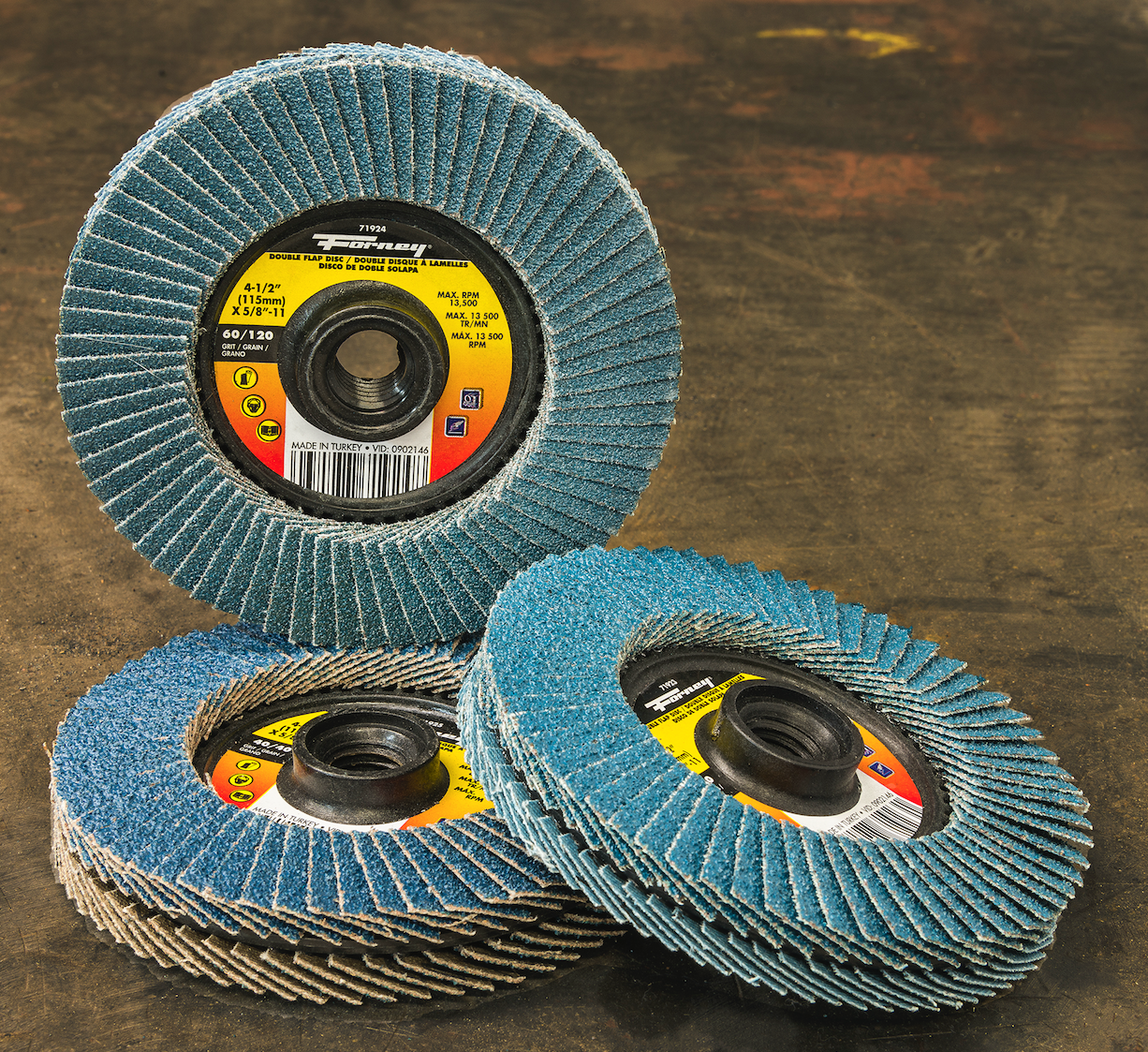 Forney Industries introduces the first double-sided flap disc to the U.S. market adding to its already expansive abrasives product line. These discs allow the user to complete grinding projects from start to finish with a simple flip of the disc.
"We wanted to introduce a metal grinding product that efficiently met the needs of our customers," said Robin Lang, Senior Product Line Manager for the abrasives line at Forney. "We took the most popular flap discs our customers use to complete their metalworking projects and created a two-sided flap disc that offers more convenience at an amazing value."
Forney offers three varieties of the double-sided flap discs. The most commonly used is the 40 grit. Forney Industries created a 40/40 grit double-sided flap disc for a coarse finish (ITEM# 71925). For a coarse to fine finish, Forney offers 40/80 grit (ITEM# 71923). If medium to fine finish is needed, Forney sells 60/120 grit double-sided flap discs (ITEM# 71924).
"If our initial sales are any indication of the market's need for this product, we hit it out of the park. We always strive to be better and in this case we're not only better, we're different. And, being different is everything," said Steve Anderson, President and CEO of Forney Industries. "These double-sided flap discs are simple to use and are the perfect accessory to any workshop. Our customers benefit from the time and money they are saving by having the ability to easily switch from one side to the other to complete their projects."
The double-sided flap discs are secured to a plastic spin-on 5/8"-11 center which allows the job to move with ease, spin to tighten and lock the flap disc in place. To switch to the other side, the user simply unscrews the flap disc and flips it over to attain the desired finish. These double-sided flap discs are for use on 4-1/2" angle grinders.
Forney Industries is one of America's oldest family-owned, welding and metalworking product companies. Founded in 1932, the company began with the invention of the instant heat soldering iron and introduced the first publicly available arc welder in the mid-1930s. Today, the company offers around 9,000 products serving the automotive, hardware, farm & ranch, industrial and do-it-yourself markets. Headquartered in Fort Collins, CO, Forney Industries delivers products to all 50 states through its extensive customer service network. Forney Industries is committed to providing the best product mix and most personal support services available today. For more product information, visit www.forneyind.com.