Extreme Abrasives SAFE LOC 5/8-11 Threaded Adaptor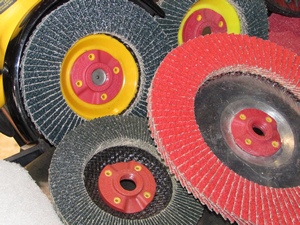 Extreme Abrasives, located in Mississauga Ontario, is proud to introduce a new 5/8"-11 threaded adaptor as a cost effective alternative to threaded plastic backing or plastic backings with a 7/8" arbor hole or zinc hubs used on all type of Flap Discs.
Invented and patented by owner of EXTREME ABRASIVES, SAFE LOC threaded adaptors have many advantages and here are some of them: SAFE LOC mechanically engages the disc ensuring safe and slip free grinding.
SAFE LOC weighs 0.282 ounces compared to a zinc hub that weighs 1.75 ounces making it less expensive for shipping.
Discs with SAFE LOC are stackable and take less space than other 5/8-11 solutions. The SAFE LOC is ergonomically designed with an area where you fingers go for easy installation and mounting the discs to the grinder.
End users end up paying less for discs with a SAFE LOC because they cost much less than any other solution on the market. There is also no need to remove the back-up flange from the grinder which means you will be using your grinders the way they were intended to be used by the manufacturers. Discs with zinc hubs do not fit if the back-up flange is on the grinder. No more lost back-up flanges.
SAFE LOC can be installed on discs with any type of backing avoiding costly discs with proprietary backings.
Learn more at www.extremeabrasives.com or phone 450-779-9468.