Extreme Abrasives MABTOOLS Resin Bonded Abrasive Wheels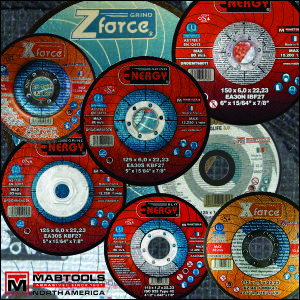 As a part of a commitment to offer best valued abrasive products, Extreme Abrasives is introducing a new line of high quality resin bonded abrasive wheels. These wheels are made by MABTOOLS in their modern facility in France and Extreme Abrasives is appointed as the master distributor for North America.
MABTOOLS' name may be new but its history in abrasive industry is long. Created in 1961 by Gianfranco Maiolini, under Molemab name and is based in Italy, it had become an internationally known group specialised in abrasives. Manufacturing in France started in 1992 and in 2013 it was renamed to MABTOOLS.
With an experience of over 50 years, MABTOOLS designs, develops and manufactures a complete range of cutting, deburring and grinding wheels.
MABTOOLS products are intended for industrial distributors, wholesalers and welding suppliers who are looking for high quality wheels that offer the best life over performance ratio. Used in for cutting, deburring, grinding and finishing on all metals and alloys, MABTOOLS wheels work faster and last longer.
Need custom solutions? That is no problem. MABTOOLS can formulate and produce wheels to accommodate the most specialized industries and the most demanding users. Just contact us directly or one of our distributors.
MABTOOLS products are manufactured using highest safety standards such are ANSI, oSa, FEPA and EN.
For more info on MABTOOLS products as well as other products offered and manufactured by EXTREME ABRASIVES please visit:
www.extremeabrasives.com/product-category/cutting-and-grinding/