Festool Domino XL Connectors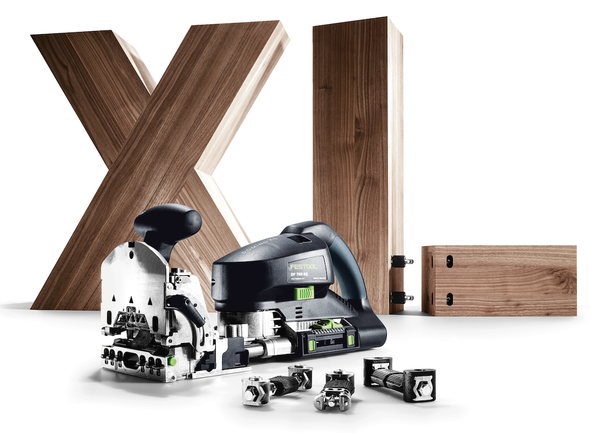 Festool USA and Festool Canada have just announced a new generation of Domino Connectors that will allow builders and end-users to create, build, set-up and knock-down large, custom constructed pieces using only a hex wrench.
The award-winning Domino and Domino XL have been revered for their strength and utility as joiners, providing precise placement of solid hardwood tenons used in wood construction where strong joinery is needed.
Domino XL has been noted for the ease of use and superior end results when incorporating large slabs, or other heavy wood parts for doors, gates, tables and beds.
Now, with Domino Connectors, builders can create, build, and finish full-sized constructed pieces, then quickly disassemble, move, and then reassemble with only a hex wrench. Domino Connectors work with the Domino XL (DF 700) Joiner to create flat or corner joints.
"Now builders and furniture makers can break through the limits of shop-built pieces and on-site construction with the use of knock-down hardware," says Leo Zirkler, Vice President of Marketing at Festool. "The payoff for end users is also incredible, because now if they ever want to move that custom-made slab table or other heavy custom piece, they can do so quickly and easily."
The new Festool Domino XL Connectors can create flat or corner joints providing simple and quick connections without the need for templates or complex measuring. Colored cover caps provide high-quality corner connection appearance. Available as a set or as individual components.
Festool Domino Connectors are:
Fast - Quick and simple machining processes with the Domino Joiner provide the basis for rapid assembly of flat and corner joints utilizing Domino fasteners for knock-down design. This allows rapid building, moving, and reassembling of large pieces.
Stable - Based on the Domino mortise-and-tenon principle, joints made with the Domino joiner benefit from the design of the oblong mortise and mating tenon and the knockdown metal fastener is robust with high connection strength.
Flexible - Connect frames, panels, tops, and other large joints and pieces and easily disconnect and reconstruct as needed. End users will also be able to move heavy furniture quickly and easily.
For more information, please go to Festool USA or Festool Canada.
About Festool Founded in Germany in 1925, Festool is known for its innovative, precision-engineered power tool solutions. Based in Lebanon, IN, Festool USA offers a comprehensive lineup of power tools and system accessories, designed to boost productivity through efficiency and high performance. For more information, visit www.festoolusa.com or www.festoolcanada.com.