ALGIZ RT7 Altra-Rugged Tablet with Android 6.0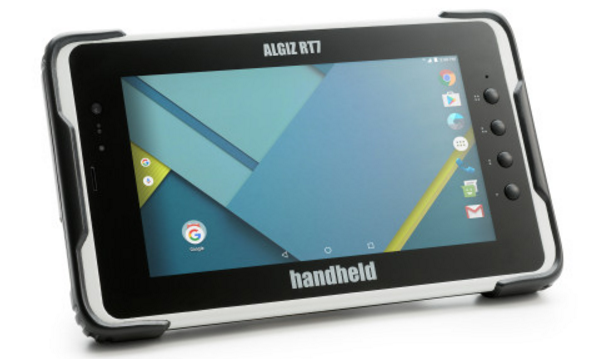 Handheld Group, a leading manufacturer of rugged mobile computers, announces upgrades to its popular Algiz RT7 rugged Android tablet. The 7-inch Algiz RT7 now runs Android 6.0 (Marshmallow) and has been upgraded to 2 GB of RAM.
The Algiz RT7 is a lightweight and ergonomic tablet that provides a wide range of features and exceptional value to mobile workforces. The upgraded Algiz RT7 runs Android 6.0 (Marshmallow), a change that adds security features and, for the first time, allows users to expand their internal storage via micro SD. These upgrades will also apply to the Algiz RT7 eTicket used in public transportation fare collection and ticket validation.
The upgrade also increases the Algiz RT7's RAM to 2 GB. The result is a significant boost to processing speed, especially when using memory-intensive applications or running multiple applications simultaneously.
"The Algiz RT7 has been an extremely popular unit since its release, and these upgrades show our commitment to providing the best available features to our customers," says Jerker Hellström, Handheld Group CEO. "Android 6.0 is a vast improvement over 5.1 for our enterprise customers, increasing data security and adding features designed specifically for mobile workforces employing Android. And the performance-enhancing RAM increase ensures our customers have the power they need for complex field tasks."
Designed for tough environments
The Algiz RT7 is both fully rugged and designed for mobility. It weighs just 650 grams and meets stringent MIL-STD-810G U.S. military standards for protection against drops, vibrations and extreme temperatures. Its IP65 rating means that it's waterproof as well as fully sealed against sand and dust.
It comes standard with voice and LTE data capabilities, plus 802.11 b/g/n WLAN, BT Class 1 and Class 2, and NFC functionality. It also boasts dual cameras (8-megapixel rear-facing and 2-megapixel front-facing), as well as dual SIM card slots. The unit comes with a built-in accelerometer, gyroscope and e-compass and a stand-alone u-blox GPS receiver for navigation.
Designed for the mobile worker, the Algiz RT7 sports a high-brightness 7-inch outdoor-viewable capacitive display that can handle true outdoor challenges. Battery performance is key for any mobile application, and the Algiz RT7 comes with a long-life 3.7V 6000mAh lithium-ion battery. Four programmable buttons allow users to launch and use applications in the field. To enhance data capture, users can choose an optional 2D imager or RFID plus 2D imager.
Availability and Upgrades
Orders for the upgraded Algiz RT7 can be placed immediately. Shipping starts by mid-March. Current units running Android 5.1 (Lollipop) are upgradeable. Contact info@handheldgroup.com for details.
The Handheld Group is a manufacturer of rugged mobile computers, PDAs and tablets. Handheld and its partners worldwide deliver complete mobility solutions to businesses in industries such as geomatics, logistics, forestry, public transportation, utilities, construction, maintenance, mining, military and security.
The Handheld Group of Sweden has subsidiaries in Finland, Italy, the Netherlands, the U.K., Germany, Switzerland, Australia and the USA. For more information, please see www.handheldgroup.com