Georgia-Pacific Gypsum DensElement Barrier System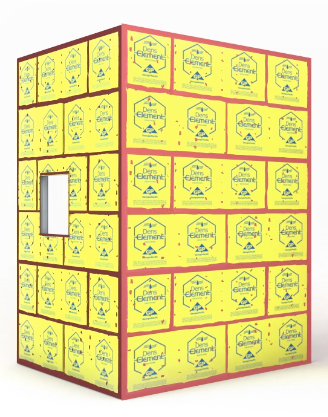 Georgia-Pacific Gypsum's DensElement Barrier System, an integrated gypsum sheathing water-resistive barrier and air barrier (WRB-AB), has passed testing as a substrate in exterior insulation and finish systems (EIFS) with drainage.
To be recognized as an approved WRB-AB sheathing, three criteria have to be met for use as an EIFS substrate: (1) be building code compliant, (2) meet EIFS water drainage, and (3) adhesion criteria. The DensElement Barrier System was tested with EIFS manufactured by Parex USA, Sto Corp. and Dryvit Systems. In all three cases, it exceeded the requirements:
Building Code Compliant- The DensElement Barrier System conforms with IBC, IRC and IECC building code, including National Fire Protection Association (NFPA) 285, Standard Fire Test Method for Evaluation of Fire Propagation Characteristics of Exterior Non-load bearing Wall Assemblies Containing Combustible Components.

EIFS Water Drainage- The DensElement Barrier System passed the water drainage test where the EIFS assemblies applied to the WRB-AB sheathing require drainage testing in accordance with ASTM E2273, Standard Test Method for Determining the Drainage Efficiency of Exterior Insulation and Finish Systems (EIFS) Clad Wall Assemblies.

Adhesion- The DensElement Barrier System passed ASTM C297, Standard Test Method for Flatwise Tensile Strength of Sandwich Constructions (an adhesion-to-sheathing test for compliance with ASTM E2568, Standard Specification for PB Exterior Insulation and Finish Systems).
DensElement Barrier System serves as the building's water-resistive barrier and continuous air barrier, when the joints, fasteners, penetrations, openings and transitions are properly sealed with PROSOCO FastFlash liquid flashing. The DensElement Barrier System holds an International Code Council Evaluation Service (ICC-ES) Evaluation Report (ESR-3786) for IRC, IBC, and IECC compliance.
To complete an EIFS installation, insulation should be adhered with vertical ribbons of adhesive applied directly to the DensElement Barrier System. Top-coating the sheathing with a fluid-applied membrane, which would have traditionally served as the WRB-AB, is no longer necessary. Contractors and architects benefit with a significantly faster installation time, a lower installed-cost EIFS applications, consistent WRB-AB vapor permeability and consistent moisture resistance when using the 3-in1 DensElement Barrier System.
For more information, including installation details and full limited warranty details, visit www.DensElement.com.