Freud CNC bits for Signs, Carving and Detail Work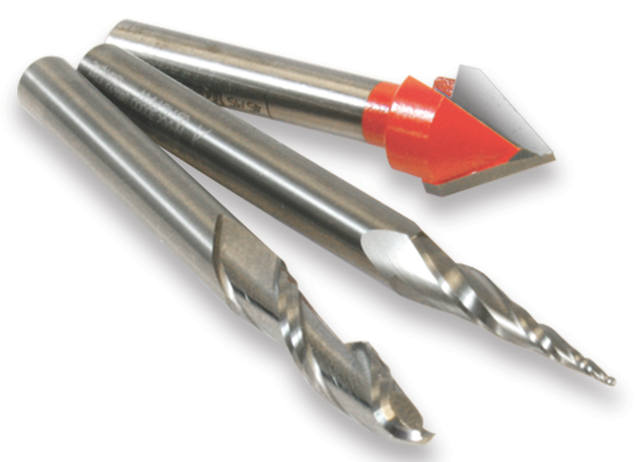 Freud extends their broad range of over 400 CNC bits with seven new profiles optimized for smaller computerized routing (CNC) machines, perfect for sign-making, carving and detail work.
Freud, with over 25-years' experience in developing premium router bits for CNC machines, along with being the only manufacturer that produces its own carbide, has specifically designed these new durable CNC bits with unique cutting geometries and Perma-SHIELD non-stick coating for unrivaled durability and cutting performance.
"We recognized the fast-growing trend of CNC usage among both woodworkers and makers, and that there weren't any application-specific router bits for them," says Russell Kohl, President and CEO. "So, we conducted extensive research to understand their needs and voids within the market, and created application-specific carbide for premium finish and cutting longevity."
Whether you are creating detailed inlays, decorative projects or sign making, Freud's unique, initial offering of seven new CNC bits and two new sets will deliver superior cutting performance and quality finish. Ideal for hardwoods, softwoods, aluminum and plastics.
Item # 70-103 - 7.5° x 3/16" CD Engraving V-Groove CNC Bit
Item # 71-101 - 1/2" Up Cut Spiral Ball Nose, 1/4" Shank
Item # 72-202 - 1-1/8" Up Cut Spiral Ball Nose Solid Carbide Bit
Item # 72-300 - 6.2° 1/32" CD, 1/4" Shank Tapered Ball Tip CNC Bit
Item # 72-400 - 5.4° x 1/16" CD Tapered Ball Tip CNC Bit
Item # 73-762 - 1/2" O-Flute Up Spiral Bit Solid Carbide Bit
Item #TM1465 - 1/2" Shank Spoilboard Surfacing Insert Cutter
Set Item # 87-108 - 8 Piece Sign Making CNC Bit Set, 1/4" Shank
Set Item # 87-208 - 8 Piece General Purpose CNC Bit Set, 1/4" Shank
FEATURES AND BENEFITS
For Solid Carbide bits:
Enhanced TiCo Super Density Carbide with chromium designed and manufactured by Freud for 2x cutting life.
Advanced cutting geometry for superior chip evacuation and finish quality.
Brilliant Polished Mirror finish grind to eliminate build up.
For V-Groove bits and other brazed carbide bits:
Enhanced TiCo Super Density Carbide with chromium is designed and manufactured by Freud specifically to protect against corrosion and maximize cutting life.
Perma-SHIELD Permanent Non-Stick Coating reduces friction and resin adhesion while preventing corrosion for less work and cleaner cuts.
Tri-Metal Brazing consists of copper sandwiched between two layers of silver alloy to create a stronger, more impact-resistant bond between the carbide and the bit.
Computer Balancing reduces chatter, resulting in clean, smooth profiles.
Multi-Axis Grinding provides consistent relief angles on the entire cutting edge, which reduces burning and provides a flawless finish.
Founded in 1962, Freud America has been the leading manufacturer of superior carbide cutting tools for the woodworking industry for over 50 years. Freud is the only manufacturer of woodworking tools in the world that produces its own MicroGrain Carbide with Titanium, called TiCo, a high-density combination of Titanium and Cobalt. By producing their own carbide, Freud has the unique ability to formulate each tool for each specific application, thereby maximizing the cutting life and performance of the tool. Freud's full line of high-quality woodworking tools includes saw blades, router bits, shaper cutters and more.
For more information, visit www.freudtools.com.