CST/berger LL20 Self-Leveling 360° Exterior Line Laser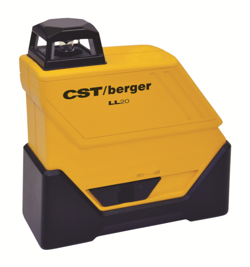 CST/berger introduces a new solution for small exterior leveling construction applications. The LL20 Self-Leveling 360° Exterior Line Laser is a fast and easy to use line laser in a compact size. With an extended range, the laser provides powerful performance and accurate results at a more affordable price than typical rotary lasers used for these applications.
The tool is designed especially for contractors who work outdoors in the residential and light commercial construction leveling segments. It's ideal for applications including bringing footers to level, leveling concrete floor forms, determining cut and fill values for excavation, leveling decks, determining irrigation flow for landscaping and checking the levels of existing structures and contract work. It features the accuracy needed for these applications and is automatically self leveled with built-in warning features for continued accuracy throughout the work day.
Cone mirror laser technology enables the laser to function without the moving parts that are typically found in rotary lasers. Without the moving parts, the LL20 line laser has a compact design making the exterior laser easy to transport and store. One-button operation reduces setup time and is simple to use. The LL20 also features multiple mounts for added flexibility.
The LL20 LL20 Exterior Line Laser offers 3/16-inch accuracy and when operated with the innovative LD3 Laser Detector, provides a 530-foot range (diameter) - perfect for small to mid-size exterior applications. Both components are water and dust protected at IP55 to withstand the toughest jobsite environments, and feature a rugged housing design and thick over-mold in key impact areas for protection from drops.
The LD3 laser detector features a dual-sided LCD display allowing users to easily view from either side of the detector. An adjustable audio output can be switched between "soft," "loud" and "off" volume settings based on worksite conditions. An innovative range extending feature can be used to extend the range of any CST/berger line laser, and the detector's sensitivity can easily be adjusted with the tool's bandwidth resolution selection.
The LL20 Self-Leveling 360° Exterior Line Laser operates on four AA batteries.
The LL20 Self-Leveling 360° Exterior Line Laser is assembled in the United States and is now available through authorized distributors. Included is the LL20 Exterior Laser, LD3 Laser Detector and bracket, six AA batteries, a hard carrying case and manual. To find out more, visit www.cstberger.com or call 800-435-1859.