Other Products: Glacier T707 Tablet Computer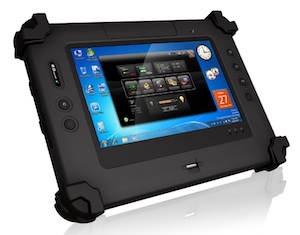 Glacier Computer announces the addition of the T707 to an already powerful lineup of rugged tablet options. The T707 combines enhanced rugged specs, configurability, and better value into a very dependable package. Glacier's "Don't Ask, Don't Tell" warranty program makes the T707 an ideal protégé for any portable application.
The T707 rugged tablet is completely sealed from dust and particulates and can withstand a water bombardment of 12.5 liters per minute from a nozzle. Dropping the unit, even from 6 feet, is well within warranty coverage and specifications.
It has a 7.0-inch touch-screen display that can be used outdoors and all of the processing power and memory requirements necessary for most applications. The T707 also has plenty of I/O to become the managing resource for all of your data collection activities. Equipped with SOTI and Stay-linked you can be in complete control of your T707 fleet. Windows 7 remains the standard OS for the T707.

The T707, combined with our other 7-inch, 8-inch, and 10-inch units, offers Glacier customers some of the best options in an expanding line of rugged tablets. And our partners, rugged computing expertise, and commitment to customer service remain our core values.
For infomration, call 866-724-6257 or visit the website.