Other Products: Simpson Strong-Wall SB Shearwall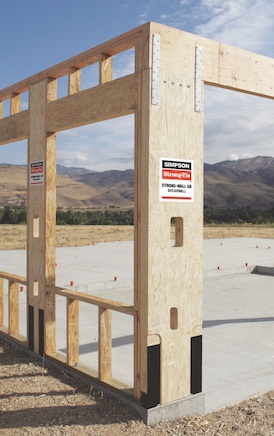 Simpson Strong-Tie introduces the Strong-Wall SB shearwall, a prefabricated wood shearwall offering enhanced design flexibility and greater lateral-force resistance for a broad range of applications, including narrow and tall wall spaces.
In areas susceptible to seismic activity or high winds, the SB wood shearwall provides structural support comparable to that of narrow steel shearwalls. The wall is designed for residential, multifamily, and light-frame commercial construction, including garage portals and other large openings.
The SB shearwall is field-trimmable for custom applications and rake walls, and is designed to easily fasten to headers with convenient drill zones and a chase for wiring.
The wall is code listed to the 2012 International Building Code (ICC-ES ESR-2652) and the City of Los Angeles building code (RR25730).
The SB shearwall is available in dimensions ranging from 12"x7' to 24"x20' for standard, portal, two-story stacked, balloon-framing and rake-wall applications.
For more information, download the Strong-Wall SB shearwall catalog at www.strongtie.com/strongwall.