GreenGuard MAX Building Wrap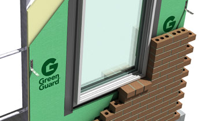 Effective today, GreenGuard MAX building wrap for residential and commercial construction now features the company's signature green color – keeping true to its GreenGuard name and the color tradition established for its premium building products.
The newly colored MAX wrap continues to provide the maximum water and air barrier protection at a great price for homebuilders, general contractors and subcontractors alike. Specifically, MAX wrap demonstrates excellent water holdout capabilities in the industry-recognized water resistance tests AATCC-127 and ASTM D 779. It also demonstrates maximum air resistance and vapor perm performance in the industry-recognized tests ASTM E 2357 and ASTM E 2178. Its non-perforated breathable exterior allows moisture and vapor to escape while helping prevent costly air infiltration.
"MAX wrap has earned its position among the industry's premium performance wraps and we're proud to now brand it with the company's signature green color," said David Dewulf, Director of Marketing, Strategic Growth and Sustainability for Pactiv. "The combination of excellent barrier properties along with durability on the job and an economical price make MAX wrap a natural leader in the industry," DeWulf said.
GreenGuard products are designed to help improve the energy efficiency of buildings and serve as air and water barriers. The sustainability focus of the GreenGuard line helps builders and contractors achieve green building certification through greater material efficiencies, smarter construction practices and reduction of energy consumption.
For more information on GreenGuard building products, to order product samples, architectural binders or literature, please call 1-800-241-4402 or visit the GreenGuard web site.