Cable Installation: Greenlee Hanging Cable Dispenser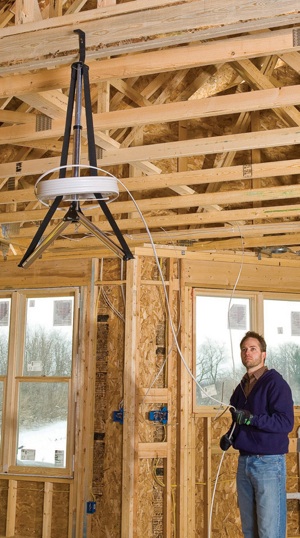 Greenlee has developed a faster and easier way for contractors to dispense NM type cables with its new 9522 Hanging Cable Dispenser.
"Many of our customers need a quick and easy way to distribute cable," said Jim Eisele, senior product manager. "We developed this hanging dispenser as a solution to their request."
The Greenlee 9522 holds a full spool of NM or MC cable (up to 75 pounds), and it spins to dispense the wire easily and evenly without overrunning.
When the job is done, it can be collapsed, folded, and stored in the included bag so it takes up little space on a truck or in a storage box.
The Greenlee 9522 is made from aluminum tubing, steel hooks and joint plates, and tough nylon straps. It only weighs 3-1/2 lbs. so it is easy to move around a jobsite.
For more information on the 9522 Hanging Cable Dispenser, call 800-435-0786, or visit www.greenlee.com
---