Cable Installation: Klein Tools Laser-Etched Fiberglass Fish Tapes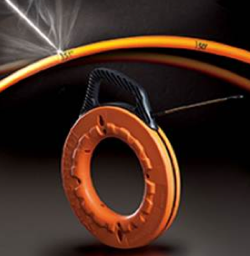 Klein Tools introduces the industry's first fiberglass fish tape with permanent laser-etched measurements marked in descending one foot increments. The non-conductive fish tape increases productivity by eliminating the measurement step when pulling wire or cable through conduit.
Electricians and cable installers can instantly and accurately measure the length of conduit runs while fishing by reading the amount of tape left to pay out. This avoids expensive re-work and wasted materials saving both time and money.
Designed for flexibility and easy navigation, Klein's new laser-etched fiberglass fish tapes slide effortlessly over existing wires or cables and through multiple bends. A durable, flexible 7-inch leader pushes through crowded conduit. The descending laser measurement markings quickly let users know how much tape remains on the reel.
Klein's exclusive fish tape case saves time and effort by taking up to 15% more tape in a single revolution. The lightweight tapes resist harsh elements and are strength-rated for up to 500 pulling pounds.
The Klein Tools new laser-etched fiberglass tapes are available in three sizes:
50' Laser-Etched Fiberglass Fish Tape (Cat. No. 56009)
100' Laser-Etched Fiberglass Fish Tape (Cat. No. 56010)
200' Laser-Etched Fiberglass Fish Tape (Cat. No. 56014)