Material Handling: Western Equipment Prowler Truck Mounted Forklift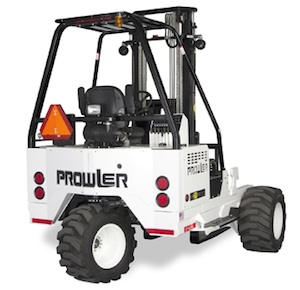 Made in the USA, a phrase that at one point was stamped onto a vast majority of products purchased in this country, is now a distant memory from an economic time period that once embraced the concept of homegrown, start-to-finish manufacturing. Advances in technology and increased competition, both foreign and domestic, forced many companies to outsource materials, services, and production to help boost profits and meet demand in this new global, interlocking economy.
One company that continues to subscribe to the Made in the USA motto is the vertically integrated Western Equipment Manufacturing, Inc., located in Southern California. Among its construction industry products is the Prowler, a truck-mounted, electronically controlled hydraulic forklift, commonly found on work sites of varying size and scope.
"In this industry, the words made in America carries significant amount of weight with prospective buyers," said Darren Dyck, general manager at Western. "They want to know that their capital investments are being built by the best in the world. With the Prowler, we build it from the ground up with our own components and offer custom paint to match a company's brand. As a vertically integrated company, we are much more capable of controlling costs and remaining competitive."
There are other forklifts similar to the Prowler, but no company can offer the customization and flexibility of Western.
"In essence, we control every step of the design and manufacturing process from our facility in Corona," Dyck said. "Our competitors cannot offer that level of attentiveness. Consequently, from a business perspective, it makes all the sense in the world for us to continue on the path we are currently on."
"About half of the Prowler orders we received this year were for custom color paint," Dyck said. "Customization appeals to companies because branding and continuity is very important to them. If you ask for one forklift with custom paint from another company, and the answer would be 'No.' Western says 'Yes.'"
By opting to build the Prowler from the bottom-up and using in-house technology and components, Western is able to assure clients that their construction site delivery tool, a critical operations arm at any work site, is not being constructed overseas by parts flown in from all areas of the world.
"If you contract with a dozen suppliers for critical components in any device or machine, you are subject to each of those company's operational effectiveness," Dyck said. "We eliminate that risk all together, which makes our quality control process less complicated than it otherwise would be."
Operational efficiency is certainly a strong selling point, but the Prowler also boasts an overwhelming advantage in its unique steering system. By using a rotary actuator instead of the more common and problem-prone gear-rack design driven by a hydraulic cylinder, the Prowler's integrated design means fewer parts and fewer breakdowns.
The steering system is mounted into a fully boxed framing structure for extreme protection and strength. The Prowler is so rigid and tough that the rear tire can be placed against a vertical wall and driven straight up the partition without bending or flexing the steering components, or its supporting structure.
"The rotary actuator has proven to be a bullet proof steering system," Dyck said. "The steering is more dependable in every environment or condition and it rarely, if ever, sees the inside of a repair shop. It is exclusive to the Prowler and it comes at a higher cost, but it is worth its weight in gold because it is the best steering system on the market."
The only truck-mounted forklift made in America is built to last.