Hitachi Cordless Brushless Finish Nailers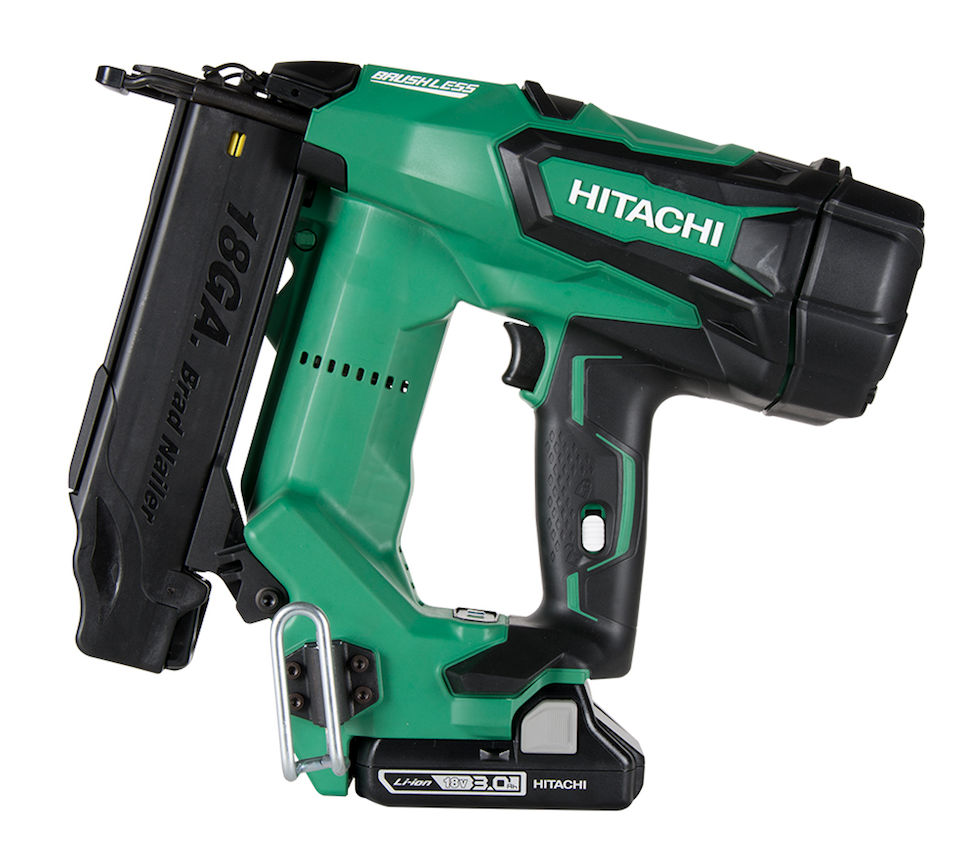 NT1850DE Cordless 18-Gauge Brad Nailer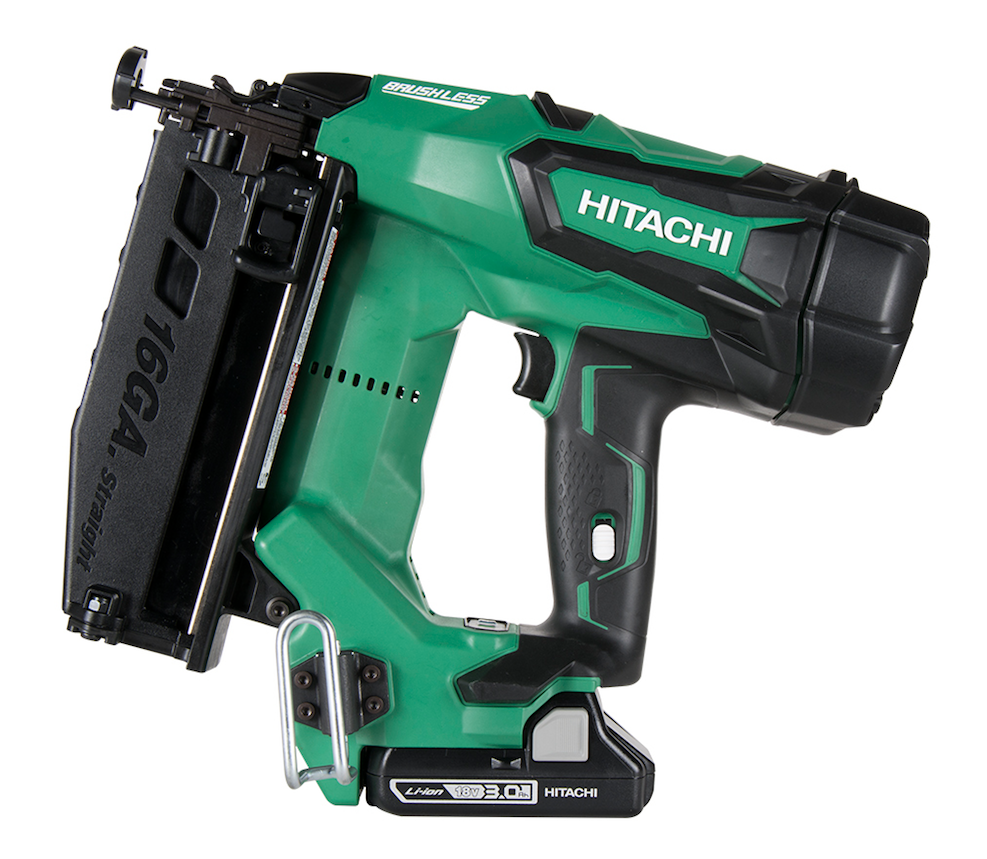 NT1865DM Cordless 16-Gauge Finish Nailer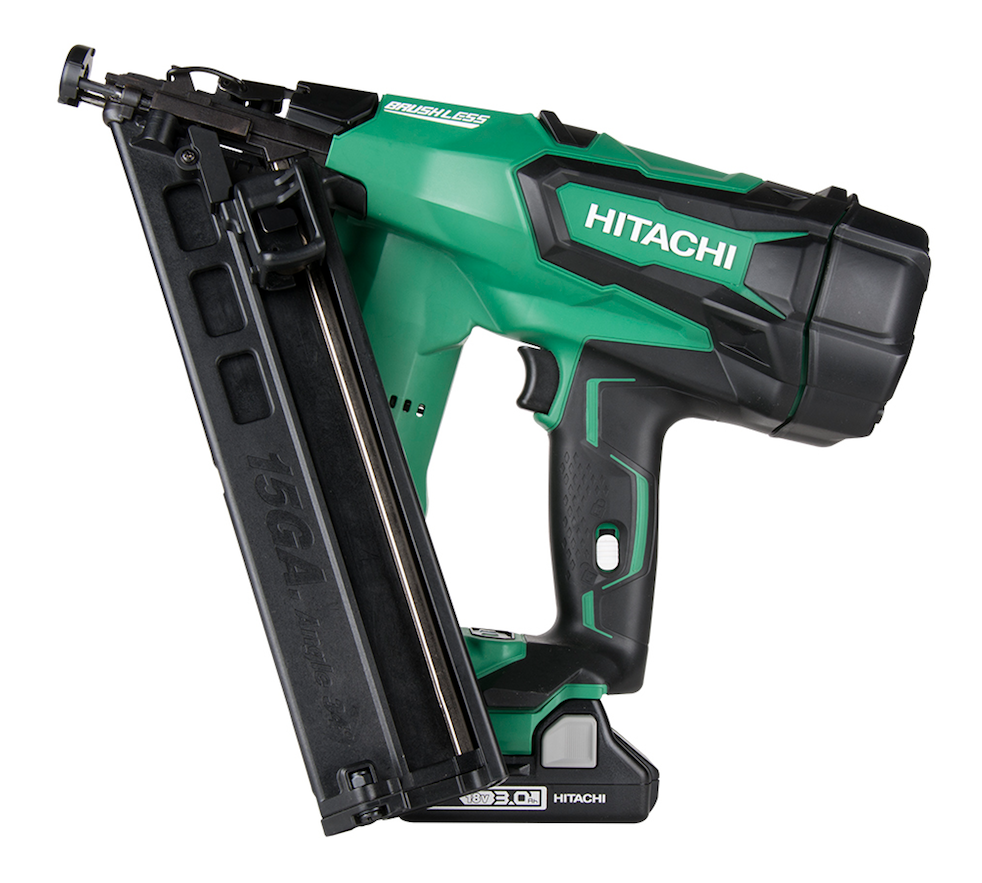 NT1865DMA Cordless 15-Gauge Angled Finish Nailer
Hitachi Power Tools (Hitachi Koki USA, Ltd.) today announced the newest additions to its Finish Nailer lineup with a New Series of Battery Powered Cordless Brushless models; the NT1850DE 18-Gauge 2" Cordless Brad Nailer, the NT1865DM 16-Gauge 2-1/2" Cordless Straight Finish Nailer, and the NT1865DMA 15-Gauge 2-1/2" Cordless Angled Finish Nailer.
This series combines Hitachi's reputation as the Pro Preferred Brand of Pneumatic Nailers* with its unique Lifetime Tool Warranty on Cordless products to deliver the quality and performance expected from Hitachi. Get more done with less and experience total fastening freedom from Hitachi by losing the hose, the compressor and gas cartridges.
This series is powered by Hitachi's New upgraded Compact 3.0Ah Lithium Ion battery, model BSL1830C (339782) that delivers all the power needed in about half the weight.
This new battery has the same capacity as a conventional 3.0Ah Lithium Ion battery, while the height is shortened by 3⁄4 of an inch and the weight is 0.6 lbs. less (compared to Hitachi battery model BSL1830) making the work experience lighter, more comfortable and more convenient.
The batteries are also equipped with Hitachi's Multiplex Protection Circuit to prevent over-load, over-charge and over-discharge that further extends the lifetime of the battery. They are fully compatible with all Hitachi 18V Lithium Ion slide type tools for even more flexibility across Hitachi's cordless line.
Each Cordless Finish Nailer comes with a Compact 3.0Ah Lithium Ion battery (while most competitive options only come with 1.5Ah, 2.0Ah or 2.4Ah batteries to date).
All cordless nailers in this series feature Hitachi Brushless motors for longer run time, less maintenance and increased durability. The driving system used is similar to Hitachi's pneumatic line featuring a unique air spring drive system that uses compressed air to drive each nail.
This results in zero ramp up time, increased shooting speed, recoil that feels like a pneumatic nailer, quicker response time between fastener shots, better flush driving- even at an angle, and easy maintenance if the need should arise due to fewer parts to manage.
They come with an on-tool battery charge indicator and tool-less depth-of-drive dial that can be easily adjusted to adapt to woods of varying density for a professional finish.
Additionally, each has a selective actuation switch that lets the user select between sequential mode or bump fire mode, when rapid nailing is preferred. A convenient tool-less, easy-to-clear nose makes it quick and simple to extract a nail should one jam during use.
An integrated pivoting belt hook adds convenience, and can be adjusted to fit on either side of the nailers (except on NT1865DMA). A no-mar nose cap protects the work surface from markings. The narrow nose pieces help facilitate nail placement in hard to reach areas and tight corners.
A built-in LED light on each nailer comes in handy when working low light areas.
The ergonomically formed, soft grip handles are designed for comfort during extended use. For added safety, located on the control panel at the base of the handle is a power button. When activated, the nailer is ready for use. It automatically shuts off power after 30 minutes of inactivity.
Also, a side-lock switch is incorporated to prevent accidental firing.
All Hitachi Cordless Brushless Finish Nailers come with a Lifetime Lithium-Ion tool warranty, 2-year Lithium-Ion Battery warranty and 1-year Lithium-Ion Charger warranty for ultimate peace of mind.
The NT1850DE Cordless 18-Gauge Brad Nailer accepts 5/8" to 2" 18-Gauge fasteners to tackle trim work, furniture assembly and other finish applications. It is capable of driving up to 1,650 nails per charge. At only 7.3 lbs, this brad nailer is lightweight and well-balanced for less fatigue. A visual nail reload indicator located on the magazine turns yellow when nail quantities are getting low so that blank drives can be avoided.
The NT1865DM Cordless 16-Gauge Finish Nailer accepts 1" to 2-1/2" 16-Gauge fasteners to install molding, chair rail, cabinetry and other finish applications. It is capable of driving up to 1,500 nails per charge. At only 7.3 lbs, this finish nailer is lightweight for its class and well-balanced for less fatigue. Dry fire lock-out prevents nailer activation when the nail count is low.
The NT1865DMA Cordless 15-Gauge Angled Finish Nailer accepts 1-1/4" to 2-1/2" 15-Gauge angled fasteners to tackle almost any finish project. It is capable of driving up to 1,100 nails per charge. The 34° angle of the magazine allows the user to reach into corners or tight spaces with ease. At only 7.5 lbs, this angled finish nailer is lightweight for its class and well-balanced for less fatigue.
An open magazine allows fasteners to be easily viewed so that blank drives are avoided. Dry fire lock-out prevents nailer activation when the nail count is low. The Charger (model UC18YFSL) cools the battery during the charging cycle to prevent overheating and comes with a red light indicator to clearly indicate the stage of charging the battery has achieved.
For the contractor, remodeler or weekend warrior seeking a reputable Cordless Finish Nailer to deliver ultimate convenience and reliable performance, then look no further than Hitachi's New Cordless Brushless Lithium Ion Finish Nailer series with more to come on the horizon.
*Based on 2014 & 2015 Product Brand Survey for Pneumatic Nailers in Builder & Developer Magazine