Diamond Equipment: ICS Blount 695GC and 695F4 Utility Chain Saws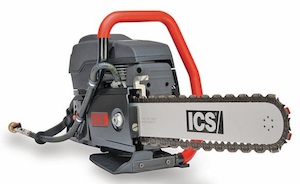 Over 20 years of ICS product innovation and experience culminating in the latest addition to our gas saw family. Everything that makes chain saws the preferable method in cutting concrete, stone, and masonry wrapped in a hungry, power filled package called the 695GC and the 695F4.
All the great features from past ICS chain saws plus a few new innovations to make your day go a little easier. Deep, straight cuts and square corners with ease of use and dependable performance to match. If cutting concrete, stone, masonry or ductile iron pipe is your game – the ICS 695GC and 695F4 are your game changer.
Use on concrete, stone and masonry
Square corners
Narrow deep cutting up to 16 in. (40 cm)
Small openings
94 cc gas powered engine
Safe, no gyroscopic rotation
Advanced rear-ported intake keeps airflow slurry free
Retained single nut bar clamp provides simplified bar clamping and no parts to lose
Extended drive sprocket adapter offers easier chain assembly
Oversized tensioner screw for easier chain tensioning
Polyester air filter designed specifically for wet cutting
Patented WallWalker for straighter cuts and lessened operator effort
Available with 14" (35 cm) or 16" (40 cm) guidebars for deep penetration

Choose the 695GC to run our line of MAX diamond chains or upgrade to the 695F4 to utilize our revolutionary FORCE4 Diamond Chains for all of your concrete, stone, and masonry cutting needs.