Diamond Equipment: MK Diamond MK-4000 saw

Self-propelled MK Diamond saws meet all California and Federal emission standards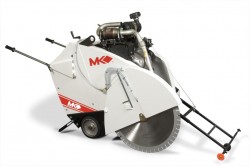 MK Diamond Products, Inc. introduces a new line of water-cooled gas and diesel concrete saws. The MK-4000HY and MK-4000KB self-propelled concrete saws feature low vibration water-cooled engines that meet all California and Federal emission standards.
The MK-4000HY features a Hyundai 1.6L 4-cylinder water-cooled engine with 48hp output. It has a new on board computer controlled fuel-injection system that monitors and adjusts fuel flow for optimum power at all operating settings. The throttle control is a power-actuated system that holds the power setting exactly at the designated RPM. In addition the computer provides up to the minute diagnostic of all engine operating conditions at the touch of a button.
The MK-4000KB features a Kubota diesel 1.5L 4-cylinder turbocharged water-cooled engine with 44hp output. Kubota's new E-TVCS (Three Vortex Combustion System) provides clean, quiet, low vibration power.
The operator's controls feature a T-handle traverse control and a variable plunge speed control. Controls have been designed to allow easy, simultaneous one-handed operation of traverse, blade plunge and water flow functions. The 3-position handlebar adjustment provides operator convenience and comfort.
The blade guard is equipped with flexible water tubes that ride directly on the blade, which significantly decreases the amount of water mist. This decreases the amount of water necessary for cutting and produces less slurry while providing maximum blade cooling and lubrication. This water system also provides superior blade cooling at all depths. The right/left mounting of the blade guard is simple with the quick release spade mounts and water hose disconnect. Both saws are available with 18", 24", 30" and 36" blade guards providing a variety of cutting depths.
The MK-4000 series are the only large concrete saws on the market that are engineered for both front and rear pivoting. This makes these saws extremely maneuverable for the operator on any jobsite. A unique feature of the MK-4000 series is the removable panels for maintenance accessibility. Other features include a maintenance free electro-hydraulic pump, 7 V-belt drive system that ensures maximum power transfer, and a totally enclosed, sealed blade shaft with continuous oil bath lubrication system.
The Eaton model 6 hydrostatic transmission is coupled to an MK engineered differential lock transmission. This differential lock transmission provides positive tracking during cutting on slippery surfaces and provides travel speed from 0-220 FPM in forward and 0-100 FPM in reverse. Another feature of the transmission is that it can be disengaged from the axle to allow the saw to be pushed manually.
MK Diamond Products, Inc. has been American-owned since 1868 and is a recognized world leader in the manufacturing of precision diamond blades and equipment for cutting, coring and polishing all types of masonry, concrete, tile and stone products. For more information, call 800/421-5830.