Diamond Equipment: Blount Utility Saw Chain
PowerGrit offers a faster, easier, safer way to cut ductile iron pipe.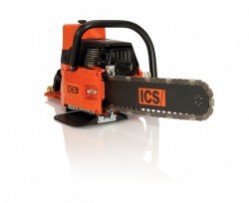 Blount International (NYSE: BLT) is pleased to introduce new PowerGrit Utility Saw Chain, a revolutionary new cutting product that significantly changes a contractor's approach to pipe cutting. From ductile iron to plastic pipe, PowerGrit technology requires less access to cut pipe in the ground. Thus, contractors are able to cut from one position with far less excavation and effort than required by prior methods — eliminating the need to excavate all the way around a ductile iron water pipe and crawl underneath to complete a cut. An operator using PowerGrit chain is able to get in and out of the job faster, easier and most importantly, safer, because there is no need to get under the pipe with a saw.
PowerGrit Utility Saw Chain is a patent-pending combination of chain design features coupled with a unique brazed layer diamond coating. Jake VanderZanden, Sr. Vice President of Business Development and President of ICS, states, "This breakthrough came from recognizing a true, long-standing market need coupled with some very creative minds and determination. PowerGrit is the first of many new business and product innovations coming from Blount."
PowerGrit is the first commercial result of an intensive R&D/Innovation effort undertaken by the Business Development Group of Blount International, founded in early 2008. The company has chosen first to apply the technology to larger horsepower applications like cutting pipe, but has a vision for product proliferation into smaller pitch chains for fire, rescue and broader construction applications.
PowerGrit chain, which will be initially marketed and sold under the ICS brand, is available for use on the professional grade ICS 633F4, 101cc, gas powered chain saw and the ICS 853 and 880, large frame hydraulic powered chain saws. PowerGrit is also sold through an OEM partnership with Stanley Hydraulic Tools.
Headquartered in Portland, Oregon, Blount International produces saw chains, bars and sprockets that are well respected in the chain saw and forestry industries and outdoor equipment accessories and parts for the garden and landscape industry. Blount offers these products under the brand names OREGON, Carlton and Windsor. Blount also manufacturers concrete chain saws and diamond chain, which have revolutionized concrete cutting in the construction industry.
As the world leader in Diamond Chain Technology, these products are offered under the ICS brand, known worldwide for its industry-leading innovations.