Diamond Equipment: Dtec Diamond Blades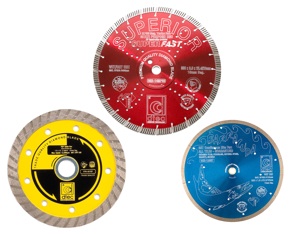 Affinity Tool Works is pleased to announce the official launch of its Dtec Diamond Blade product division. Dtec offers three lines of diamond blades, Superior, Contractor and Barracuda, providing a solution for every type of construction cutting application and budget. The Dtec blades are engineered to perform and built to meet the demands of a variety of applications, and are intended to fit a wide range of both gas- and electric-powered saws.
Dtec's Superior series offers more than ten blade sizes and is available in segmented and turbo configurations. With either a 12mm or 15mm segment height, the Superior segmented blades offer faster and cleaner cuts, along with a longer blade life. Featuring a modern design combining a segmented and continuous rim, the turbo blades are an ideal solution for fast, yet precise cuts on higher-end materials like granite, stone and tile. All Superior blades are built with a reinforced flange, which reduces vibration and noise and, when combined with strategically-placed cooling holes, helps prevent warping caused by excessive heat.
The Superior blades offer a unique and valuable benefit in that they've been designed with the ability to cut through steel. Unlike typical diamond blades that can be severely damaged if they encounter steel, the Superior blades are able to cut through the material easily. This makes them the ideal choice for applications where steel rebar may exist within the material, such as cutting reinforced concrete and masonry on bridge decks and roads.
With more than 15 blade sizes, the Contractor series offers an option for the price-conscious without sacrificing the performance of a diamond blade. Three different configurations are available to suit a wide range of applications: segmented, continuous rim and turbo. The segmented blades' 10mm segment height allows them to last up to 43 percent longer than competitive blades. With a smooth edge design, the continuous rim blades provide the cleanest, most precise cuts. Offering the best of both worlds, the turbo blades combine the speed of segmented blades with the smoother cutting ability of continuous rim styles. Intended to cut material such as concrete, masonry block and brick, this line is ideal for tradesmen in the general and landscape construction, concrete and masonry industries, as well as do-it-yourselfers.
Featuring a continuous rim design, the Barracuda series is a premium line that offers the smoothest, thinnest cuts for wet or dry applications. S-slots in the blade prevent heat build-up, extending blade life up to 10 times longer than similar blades. Furthermore, the S-slot design keeps the blade from warping and allows straighter, more precise cuts. Designed exclusively for "beauty cuts", the Barracuda series is perfect for cutting expensive granite and tile on high-end commercial and residential finish work and remodeling.
The Superior, Contractor and Barracuda blades are part of an ever-expanding line of high-quality diamond blades from Dtec.
Diamond Blades are manufactured and marketed by Affinity Tool Works, LLC. For more information, contact Affinity Tool Works, 1161 Rankin Drive, Troy, MI 48083, call 248-588-0395, toll-free 866-588-0395, fax 248-588-0623, e-mail sales@affinitytool.com, or visit the website.