Air Tools: JET Air Tools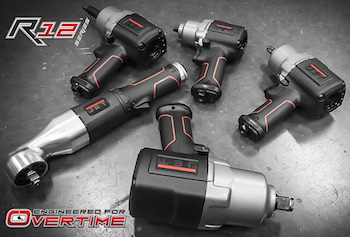 JET Tools has introduced an entirely new line of rugged, high- performance air tools that live up to their bold tagline, "Engineered for Overtime."
In development for 1 1⁄2 years, the new pneumatic power tool line encompasses a complete range of impact wrenches, ratchets, die grinders, drills, screwdrivers, sanders and polishers, spray guns, specialty tools and accessories.
"It's a rare occurrence when an equipment manufacturer upgrades and replaces every single item in a major line, such as air tools," said Sandy DeWald, JET Product Manager. "JET has accomplished such a complete makeover, while remaining highly competitive with the industry's other top brands. As a full measure of confidence, JET's air tools are backed by the industry's only lifetime warranty."
In addition, JET is the first to offer a "1 Year Wear & Tear" Coverage Warranty on the entire new air tool line. JET will cover all air tool repair costs, including parts and labor, for the first year of ownership.
JET's new air tools are categorized into one of three performance classifications:
R12 Series - built to withstand the toughest 12-hour shifts, day-in and day-out
R8 Series - designed for daily 8-hour shifts in demanding applications
R6 Series - intended to handle frequent, rigorous jobs during normal 6-hour workdays
Impact Wrenches
JET's R12 Series Impact Wrenches range in size from 3/8 to 11⁄2 in. drives with maximum torque ratings up to 3,400 ft-lbs. They feature durable Twin Hammer impact technology, proven to be ideal for heavy-duty service in industrial and automotive environments. This innovative mechanism incorporates two identical hammers that deliver instantaneous, balanced blows while providing more power per pound.

The R12 Series Impact Wrenches incorporate composite housings that reduce weight and improve balance, which, along with ergonomically designed grips, decrease operator fatigue. The R12 Series Impact Wrenches also feature patented, one-hand, forward/reverse switches, four-position speed selection switches with full reverse power, and heavy-duty air motors.

Impact Ratchets
JET's new R12 Series Impact Ratchets are the first to bring the Single Hammer technology traditionally used in impact wrenches into ratchets. This revolutionary technology results in more power and an impressive 100 ft-lbs of torque with less recoil or twisting force for smooth operation.
R12 Series Impact Ratchets bring another unique feature to the market with the patented sealed heads to prevent dirt from entering the ratchet mechanism for extended tool life. Industrial-duty air motors increase durability and reliability of these essential air tools.
Die Grinders
R12 Series Die Grinders are compact air tools in full-size and mini body styles for polishing, grinding and surface preparation in tight spaces. Straight, angled and extended head styles are available to match varied applications.
The ergonomic grips of R12 Series Die Grinders absorb vibration and reduce hand fatigue. Smooth and dependable ball bearing design ensures durability. A variable- speed throttle allows precise speed control, while the safety lock prevents accidental starting.
Spray Guns
R12 Series Spray Guns come standard with industry-leading high-volume/low-pressure
(HVLP) technology. HVLP technology improves material transfer and reduces overspray, resulting in an effective and efficient tool for applying finishing touches.
The stainless steel fluid tip and needle give the spray guns a longer life and more consistent spray. Adjustable fluid and air dials allow for complete spray pattern control. The ergonomic design and chrome-plated body reduces operator fatigue and make for easier cleaning.