Air Tools: DeWalt Quadraport Regulated Line Splitter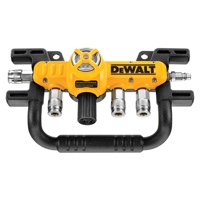 DEWALT announces the Quadraport Regulated Line Splitter (D55040). The Quadraport is ideal for professional framers, roofers, trim carpenters, automotive trades and other contractors who regularly use an air compressor on the jobsite.
"After spending a significant amount of time on jobsites talking to professionals about their needs in a line splitter, we realized that there was a tremendous opportunity to develop a solution that would better meet contractors' demands," said James Vintzel, Group Product Manager for DEWALT. "The Quadraport will exceed contractors' expectations when it comes to durability, performance and ease of use."
The new model features field-tested innovations that are designed to solve the common issues associated with the line splitters that contractors are currently using, including pressure drops, inaccurate readings and durability problems. The D55040 features an impact-resistant resin body, liquid-filled gauge and robust handle to ensure that the product can withstand jobsite abuse. Additionally, the handles and sidebars have been strategically positioned to protect the couplers and the plug for added resilience to high impact drops.
To ensure that the Quadraport meets contractors' needs and high performance standards, the product encourages splitting near the jobsite by using a 3/8" inlet fitting, and the gauge allows users to retrieve a PSI reading close to the tool. For added flexibility, the regulator permits two different pressures at the jobsite, and the Quadraport is factory assembled and tested to guarantee that there are no leaks or pressure drops.
The universal couplers accept the 3 major plug styles, and hang holes allow contractors to easily hang the product for maximum ease of use. To ensure that the product is as easy to manage as possible, the design allows proper room for hand and wrench operation. The Quadraport is targeted to retail for $59.