Air Tools: Industrial Air Contractor H4X Remote Air Hub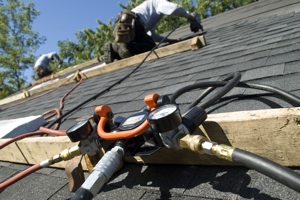 MAT Industries, LLC announces the launch of the H4X Remote Air Hub, an innovative patent pending system that allows for remote regulation of compressed air, for up to 4 air tools at a time, and provides four times faster nail gun recovery time. H4X Remote Air Hub test results show a 1 second recovery compared to 4 seconds for conventional systems with air regulated at the compressor.
The H4X Remote Air Hub works by bringing more air closer to the job with a 1/2-inch unregulated hose. "With the Remote Air Hub system contractors can run more nail guns off of a single compressor without "stair stepping" nail heads and avoid the need for additional hammering," says Doug Collins, Directory of Sales, MAT, Industries.
The H4X Remote Air Hub also features two ¼" regulators, gauges and quick connects so the pressure for each nail gun can be individually adjusted, as well as two 1/4-inch expansion ports that can be fitted with additional regulators for increased productivity. "The unregulated air flow and pressure provided to the H4X, coupled with four-times quicker recovery time allows for increased productivity making the Remote Air Hub a valuable tool for any jobsite" states Doug Hale, VP of Sales and Marketing, MAT, Industries. "Coupled with our new Chopper Wheelbarrow compressor this is the most versatile air compressor system on the market" comments Hale.
The H4X Remote Air Hub can be found in leading commercial construction supply houses. It is sold both individually and with the new Industrial Air Contractor 10-Gallon Chopper Wheelbarrow compressor featuring an H4X Remote Air Hub docking station. You can also see the H4X Remote Air Hub featured along with the rest of the Industrial Air compressor line at the 2010 STAFDA Show, Booth # 433-35, Nov. 7-9, in Phoenix.
www.industrialaircontractor.com