Air Tools: Dynabrade Mini-Dynafile II Abrasive Belt Machine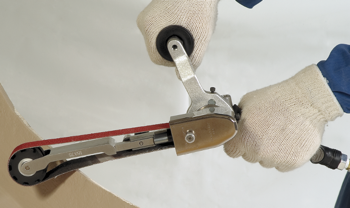 Dynabrade's Mini-Dynafile II is a lightweight air-powered abrasive belt machine for grinding, blending and deburring in normally inaccessible areas.
Running at 25,000 RPM, the Mini-Dynafile II utilizes 1/8" to 1/2" wide x 12" long abrasive belts. The tool accepts coated and abrasive impregnated non-woven nylon belts. The multi-positioning grinding head pivots 180°, ideal for grinding into hard-to-reach areas. The lightweight, composite housing reduces vibration and is thermal insulated to prevent cold air transmission to the operator's hands. The air motor is also adjustable to the most comfortable throttle lever position. Eight different contact arms are also available for a wide variety of distinct applications.
The tool is excellent for finishing and deburring within narrow openings. It is also ideal for blending stainless steel and grinding right angle welds. The lightweight, compact design of the tool is also suitable for ladies, or people with smaller hands who insist on a more comfortable air tool while grinding.
A Mini-Dynafile II Versatility Kit is also offered which includes the tool, contact arms, various abrasive belts and a threaded collet for easy conversion to a Die Grinder. Made in the U.S.A.
Dynabrade has been supplying quality industrial abrasive power tools for use in industries worldwide for over forty-two years. Dynabrade, Inc., 8989 Sheridan Drive, Clarence, New York 14031-1490. (716) 631-0100. Fax: (716) 631-2073.