Lifting & Moving Equipment: Jescraft Self-Leveling Barrel Cart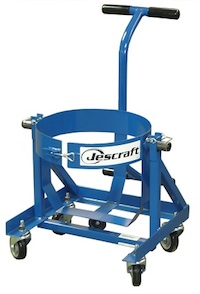 Jescraft's Model BC Barrel Cart is your best solution for mobile blending and pouring of self-leveling materials. Safely and quickly mix, transport and pour from this All-in-One cart! Designed for use standard with Ardex and Drytek size mixing drums.
Features:
Heavy Duty All-Welded Steel Frame construction
Only requires one operator
Full-tilting barrel frame for easy placement and effortless pouring of materials
Barrels easily remove from cart for cleaning and storage with release of draw latch
Integrated frame stop prevents barrel from tilting backwards
Comes with 4 swivel casters – 1 locking
Common uses include mixing, transporting and pouring self-leveling cement based underlayment.