Lifting & Moving: Yale Global King Explosion Proof Electric Wire Rope Hoist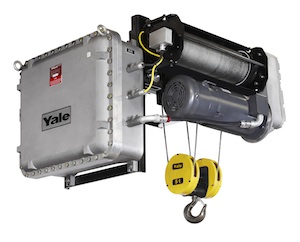 Columbus McKinnon Corporation (NASDAQ: CMCO), a leading designer, manufacturer and marketer of material handling products, has made its popular Yale Global King electric wire rope hoist available in an Explosion Proof Option.
The Explosion Proof options include special enclosures, metal clad (MC) electrical cable and sealed fittings, intrinsically safe control stations and explosion proof rated motors (available as specified).
The Explosion Proof hoist models are available in a variety of capacities with both underhung and top-running trolleys. Ideal for Division 2, Class 1 (Group B, C & D) applications, the Global King Explosion Proof will meet and exceed your needs.
The upgraded 3-year warranty offered during the launch of Yale's Flex-48 Global King program continues to be offered as a standard on the Global King hoists. This warranty change is a reflection of the hoist exceeding expectations and providing one of the lowest costs of ownership over its 10 years in the market.