Lifting & Moving: Jescraft Dual Purpose Panel Carts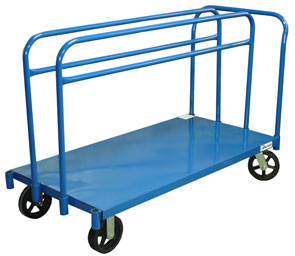 Jescraft announces a new line of Panel Mover Carts, the PMX series. The removable handles allow the PMX to be one of the most versatile carts in the Jescraft line.
Ideal for moving large, hard-to-handle items.
Allows for two push handles or four long handles to be utilized.
Comes standard with one push handle and two long handles.
Common uses include transporting lumber, plywood, drywall and other types of panel or slab material in the shop, warehouse or plant.
All carts are 42 inches tall and are available in the following sizes:
24 inches wide by 36 inches long
24 inches wide by 48 inches long or
30 inches wide by 63 inches long.
Each cart has a load capacity of 3,000 pounds.