Lifting & Moving: Magline Hand Truck Extractor Handle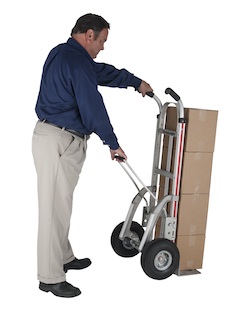 Magline introduces the new extractor handle for its two-wheel hand trucks and brake trucks. This ergonomic tool can be easily retrofitted to existing Magline hand trucks and brake trucks already in use for improved user convenience.
The extractor handle is designed so that drivers can easily pull a hand truck out from under loads, with a contoured shape that provides clearance to brake truck cables and stair climbers. Like Magline hand and brake trucks themselves, the handle has a strong, lightweight solid aluminum construction that remains reliable without adding excessive weight once attached.
Torsion springs securely store the handle out of the way when it is not in use. The handle is available on most assembled or KD hand truck or brake truck models. It weighs only 2.5 pounds in the hand truck version, and only 1 pound in the brake truck version.
For more information, phone 800-MAGLINE (624-5463).