Other Products: M.POWER CRB7 Router Base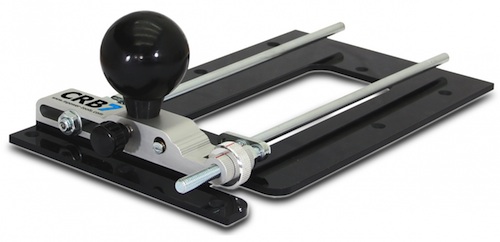 M.POWER Tools Combination Router Base is truly unique amongst router jigs: It's 7 core functions takes the average router to a different level of performance. With no additional accessories needed, the CRB7 functions are:
Adjustable Dado-ing/trenching,
Adjustable Mortising,
Anti Tilt Support,
Precision Small Circle Compass,
Off Set Edge Routing and
Faux Panel Dado Copier.
The CRB increases overall routing stability, improves accuracy and quality of finish of every routing pass. The CRB7 fits ALL routers that have edge guide/side fence rod drillings in their bases. It is quick change, no screws or drivers required, it literally slides on and off the router, reducing set up time to almost nothing.
Tool Functions:
Set up with speed and ease - The CRB7 now sports adjustable cranked rods. Allows both the inter rod width and rod height to be simultaneously adjusted. Fitting the CRB7 to your favorite router couldn't be easier. The new cranked rods, now allows the CRB to be fitted to the majority of routers on the market.

Adjustable Mortising - a unique feature that allows "Centered and Off Centered" mortises plus decide on and precisely control the actual width of the mortise.
Anti Tilt Support - Another first, variable height triangulated stabilization - Usually most of the router base remains unsupported when edge routing - CRB Anti tilt leg eliminates router tilt especially important when routing work-pieces with a high aspect ratio.

Compass - Route precision circles and holes that are actually smaller than the base of the router - CRB can route circles and wheels from: ¾" > 8.¾" radius (19 > 225mm) that's diameters ranging 1.½" > 17.½" to (38 > 450mm) with a ¼" 6mm straight router cutter.
Off Set Base Plate - Increases overall router stability - reducing errors when edge moulding by more than doubling the surface contact area between router and workpiece. CRB also moves the pivot hand guiding the router toward the centre of the panel smoothing out the router pass action, reducing the chance of burn marks.

Adjustable false panel rebate copier - The CRB provides a simple and exceptionally quick way of accurately repeating a moulded dado for production batch quality faux or false panelling.

Flush Trim Lipping Kit - With virtually no set up time - quick fit the Trim Jig riser pad to accurately machine trim hard wood and iron on lipping flush with the core board in seconds. (requires accessory kit)
Tool Features:
One Time Set Up - Set up the CRB7 to fit your favourite router just once with a set of 4 x injection moulded shims and 4 sets of screws - job done

Quick Change - Unlike most router jigs, CRB can be fitted/removed in less than 10 seconds.. with no fiddly screws or cantering jigs required.

Micro Adjuster - High precision router cutter position can be attained and repeated using the knurled and indexed micro adjuster.

2" Bakelite Ball Handle - Ergonomic design, comfortable to the touch, allowing for easy hours of consecutive use.

Indexed Rule - The self adhesive Imperial/Metric rule is another feature to ensure fast easy readings of router cutter position.

2-Section Anti Tilt Leg - Supports and stabilizes the router, when routing materials varying in thickness from 3/8" > 3.1/4" - 10mm > 82mm. The 2 leg sections accommodate combinations of router position and workpiece thickness.

Magnetic Pivot Pin Storage - A no loose home for this essential component, safe and easily accessible when ever needed. Professional Grade Build - Made in England CRB is manufactured to the highest standards including a hard anodized machined solid aluminium bridge. Laser cut 5mm thick acrylic baseplate and precision turned steel and brass components.
2 Year Guarantee - Our extended guarantee is testimony to the build quality of the CRB and ensures our customers can buy in confidence.