Adhesives & Sealants: Kemperol Reflect 2K FR cool roofing system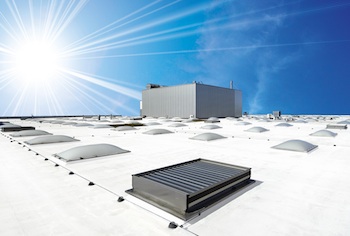 Kemper System America, Inc. is introducing Kemperol Reflect 2K FR, a new cold, liquid-applied reinforced Cool Roofing system that can improve building energy efficiency. The bright white surface helps reflect sunlight and dramatically reduce the impact of infrared (IR) rays that can tax building cooling systems.

The easy-to-apply, fully-reinforced membrane is applied the same way as Kemper System's best-selling Kemperol 2K-PUR solvent- and odor-free system, but the new liquid waterproofing pours out white and dries to a bright white finish. As no topcoat is necessary, labor costs and installation time are reduced.
The new Cool Roof resin membrane system consists of 70 percent rapidly renewable resources, is fire rated for Class-A assemblies, and is odor-free and low VOC.
"Kemperol Reflect 2K FR extends our efforts to support sustainable design," says Managing Director Richard Doornink. "It is ideal for exposed roofs where reflectivity can make a major impact on building energy demands, and it offers many of the same advantages as our Kemperol® 2K-PUR system, popular for 'Green Roofs' and 'Blue Roofs.'"

The new product was tested in Europe and proven valuable on 'Cool Roofs' (also known as 'White Roofs') especially in warmer climates and areas with above average sunshine, he said.

State-of-the-art Kemperol membrane systems fully adhere to substrates, and are self-flashing and self-terminating for easy installation and edge-to-edge protection. They can reliably seal roof perimeters, multiple penetrations and virtually any architectural detail, with extended warranty protection. They are fully reinforced with 165 polyester fleece which absorbs the resin and can achieve proper membrane thickness in a single layer.
Kemper System has been a global leader in cold, liquid-applied, reinforced roofing and waterproofing technology for over 50 years, having invented the technology and holding the first patents.
Visit www.kempersystem.net or call 1-800-541-5455.