Adhesives & Sealants: ShurTech T-REX Tape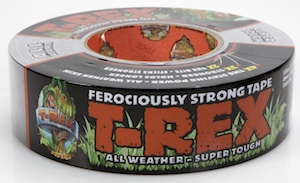 The legendary Tyrannosaurus Rex is known as the fiercest predator in history. And just like its namesake, T-REX Tape is on a mission to take a "bite'"out of any project in its path. As the "King of the Toolbox," T-REX Tape is formulated with super-durable, extra-thick, sun-resistant materials to work longer and hold stronger than other utility tapes, in all kinds of weather.
T-REX Tape consists of three different layers: a double-thick adhesive bringing together a tough, thick polyethylene skin and a reinforced inner cloth layer using an advanced technology called co-extrusion.
The aggressive adhesive is melted and pressed through a high tensile, woven fabric and into the molten polyethylene skin using heat and pressure to lock the layers together. This is what gives T-REX Tape four times the staying power, three times the holding power and two times the bite over regular tapes.
This double-thick, super-aggressive adhesive allows the tape to offer superior hold on more surfaces than other ordinary tapes – including rougher and dirtier surfaces in a wide range of temperatures and humidity levels. T-REX Tape also is specifically designed with a thick sun-resistant skin which gives the tape its famed holding power – inside or outside.
"When you think of the T-Rex, certain adjectives come to mind: strong, aggressive, ferocious – and that's exactly what consumers can expect from T-REX Tape – a Ferociously Strong Tape," says Stephen Wagner, assistant marketing manager, at ShurTech Brands, LLC, the company that markets T-Rex Tape. "This is a technologically advanced tape we've created to perform well in any condition and withstand the test of time."
T-REX Tape is now available at retailers nationwide. For more information, visit trextape.com.